Black Ferns contracts announced for 2023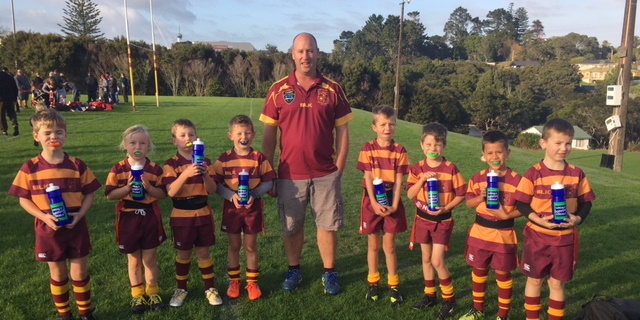 New Zealand Rugby (NZR) has announced the 34 players contracted players locked in for the Black Ferns as they set their sights on building toward the 2025 Rugby World Cup.
Sky Super Rugby Aupiki standouts, Grace Gago, Katelyn Vahaakolo, Layla Sae, Lucy Jenkins, Mererangi Paul and Rosie Kelly have secured their first fulltime Black Ferns contracts.
In addition, 2022 Black Ferns Rugby World Cup champions Awhina Tangen-Wainohu, Kendra Reynolds, Sylvia Brunt and Santo Taumata have also picked up fulltime Black Ferns contracts for the first time.
Black Ferns Director of Rugby Allan Bunting congratulated the contracted group.
"We have a balance of youth and experience among the group who we believe can take this team to another level, which is exciting for the future of the Black Ferns. A number of players stood out in Sky Super Rugby Aupiki and now have the opportunity to further their growth and do that at the next level. For this group, it is now time to re-focus and look at what it really means to be a Black Fern, build off what was achieved, strive to be better on and off the field, and enjoy the journey."
2023 Black Ferns Contracted Players:
Alana Bremner (Matatū, Canterbury)
Amy Du Plessis (Matatū, Canterbury)
Amy Rule (Matatū, Canterbury)
Ariana Bayler (Blues, Waikato)
Arihiana Marino-Tauhinu (Chiefs Manawa, Counties Manukau)
Awhina Tangen-Wainohu (Chiefs Manawa, Waikato)
Ayesha Leti-I'iga (Hurricanes Poua, Wellington)
Charmaine McMenamin (Blues, Auckland)
Chelsea Bremner (Chiefs Manawa, Canterbury)
Georgia Ponsonby (Matatū, Canterbury)
Grace Brooker (Matatū, Canterbury)
Grace Gago (Blues, Counties Manukau)
Grace Steinmetz (Matatū, Canterbury)
Hazel Tubic (Chiefs Manawa, Counties Manukau)
Joanah Ngan-Woo (Hurricanes Poua, Wellington)
Katelyn Vahaakolo (Blues, Auckland)
Kelsie Thwaites (Chiefs Manawa, Bay of Plenty)
Kendra Reynolds (Matatū, Bay of Plenty)
Kennedy Simon (Chiefs Manawa, Waikato)
Krystal Murray (Hurricanes Poua, Northland)
Layla Sae (Hurricanes Poua, Manawatu)
Liana Mikaele'Tu'u (Blues, Auckland)
Logo-I-Pulotu Lemapu Atai'i (Sylvia) Brunt (Blues, Auckland)
Lucy Jenkins (Matatū, Canterbury)
Luka Connor (Chiefs Manawa, Bay of Plenty)
Maiakawanakaukani Roos (Blues, Auckland)
Mererangi Paul (Chiefs Manawa, Counties Manukau)
Patricia Maliepo (Blues, Auckland)
Pip Love (Matatū, Canterbury)
Renee Holmes (Matatū, Waikato)
Rosie Kelly (Matatū, Canterbury)
Ruahei Demant (Blues, Auckland)
Santo Taumata (Chiefs Manawa, Bay of Plenty)
Tanya Kalounivale (Chiefs Manawa, Waikato)

Amy Rule will complete the Super W season in Australia before returning to the Black Ferns programme. NZR is also working with Ruby Tui to confirm her availability to re-join the Black Ferns programme later in the year.
Contracted players will train out of regionalised hubs in Auckland, Hamilton, Tauranga, Wellington and Christchurch, where they will receive technical, tactical and strength and conditioning programmes.
In addition, each player will have one day a week committed to their personal development, focussing on the areas of career/education and work, finance and asset protection, character development, mental wellness and other professional rugby obligations and expectations.
Newly Contracted Black Ferns Bios:

Grace Gago:
Grace Gago is a promising, hard-working hooker out of Counties Manukau. After a stint on the side-line with injury Gago produced a strong Bunnings Warehouse Farah Palmer Cup (FPC) season for the Counties Manukau Heat and earnt selection in the nib Blues Sky Super Rugby Aupiki squad. Gago debuted for the nib Blues against Matatū earlier this year.
Katelyn Vahaakolo:
Katelyn Vahaakolo had her first taste of Bunnings Warehouse FPC in 2022 with the Auckland Storm, having previously played rugby league for the Newcastle WNRL side. She returned to rugby league at the back end of 2022 to fulfil her dream of playing for the Kiwi Ferns at the Rugby League World Cup in the UK. However, the lure of a Black Ferns jersey has seen Vahaakolo return to rugby union where she has quickly learned her craft in the outside backs and midfield for the nib Blues during their Sky Super Rugby Aupiki campaign.
Layla Sae:
Hailing Manawatū Layla Sae, 21, made her Sky Super Rugby Aupiki debut earlier this year for the Hurricanes Poua. Sae was identified as a player to watch following an impressive Bunnings Warehouse FPC campaign last year for the Manawatū Cyclones. Sae also is a notable volleyballer having previously been selected for the New Zealand Secondary School Volleyball Tournament team and the NZL Junior Development Volleyball team.
Lucy Jenkins:
Lucy Jenkins, 23, has been a consistent performer for Canterbury since her 2018 debut in the Bunnings Warehouse FPC. In her second season of Sky Super Rugby Aupiki for Matatū, the powerful loose forward was a stand-out across the competition. Known for her work-ethic and commitment to the game it was no surprise she secured her first Black Ferns contract.
Mererangi Paul:
Versatile athlete and Counties Manukau first-five, Mererangi Paul, made her Sky Super Rugby debut earlier this year for Chiefs Manawa. She soon became an influential player maker for the side on the wing. Paul has also represented Bay of Plenty in Sevens and made her debut for the Northern Mystics in 2017 for the ANZ Netball Premiership.
Rosie Kelly:
Inside back Rosie Kelly, 23, has been a stand-out and regular feature for Matatū in her second Sky Super Rugby Aupiki season. Kelly's rapid speed has been showcased during the Sky Super Rugby Aupiki season and during her time in the Canterbury jersey throughout Bunnings Warehouse FPC.