Farah Palmer Cup: Semifinals Wrap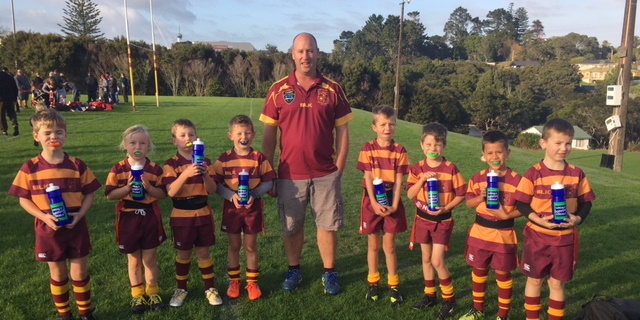 Canterbury will host the Farah Palmer Cup Premiership presented by Bunnings Warehouse final for a sixth consecutive year after posting their highest-ever semifinal score against a gallant Hawke's Bay.
For the ninth time since 1999, Auckland awaits in the decider after the Storm flipped a 12-0 deficit to again eliminate Waikato.
In the championship, Manawatū was ruthless in ending Tasman's season while Northland overcame a brave Otago in Whangarei.
Auckland: 29 (Maama Vaipulu 2, Angelica Vahai, Ruahei Demant tries; Ruahei Demant 3 con, pen) Waikato: 22 (Carla Hohepa, Victoria Makea, Ashlee Gaby-Sutherland tries; Kiriana Nolan con, Ariana Bayler con, pen). HT: 22-15
Ruahei Demant is the Black Ferns co-captain. Twice missing touch penalties and a simple penalty shot from 15m out at 22-22 in the 68h minute is almost unheard of. The World Rugby Player of the Year owed the Storm, and she delivered big time when it most counted, scoring the winning try in the 73rd minute after bursting onto a nice inside ball from Patricia Maliepo, dummying and swerving her way under the sticks.
A short while later Demant made a 20m break which ensured Waikato was forced to try and win the game from deep inside their own territory. Maliepo made her first appearance in 2023 and was a solid contributor from the bench.
Initially, Waikato made an imperious start, with 38-year-old second-five Carla Hohepa surging 30m down the right touch to open the scoring after just 95 seconds, then, on the back of a penalty from a huge scrum, Victoria Makea barged over for her fourth try of the season.
Auckland regrouped and showed they had plenty of muscle in their arsenal.
Lock Maama Vaipulu comes from a volleyball background, but she had a storming match and two barge-over tries seven minutes apart tied the scores. Tragically Hohepa was forced off with injury for Waikato after 24 minutes and prop Tanya Kalounivale was yellowed carded in the 29th minute for repeated team infringements.
The visitors punished an understrength Waikato with a break down the left flank which led to a 10th try of the season for 17-year-old winger Angelica Vahai.
Down 22-15, Waikato tied the scores in the 52nd minute when the tenacious and tireless flanker Ashlee Gaby-Sutherland scored a maul try.
Waikato peppered the Auckland line, but the Storm's stoic defense proved watertight. Prop Sophie Fisher won a huge ruck turnover and had a massive shift. Eloise Blackwell was a trojan and new No.8 Elizabeth Moimoi has made massive strides.
Waikato pilfered several Auckland lineouts and enjoyed ascendency in the scrum though Auckland grew more resolute. They struggled to penetrate Auckland out wide, a hugely reshuffled backline making multiple fumbles and lacking the coordination of their rivals.
Waikato's 2023 season ends at the hands of Auckland in the semis. They fashioned a 5-2 record.
Canterbury: 59 (Holly Wratt-Groeneweg 3, Martha Mataele 2, Pip Love, Grace Steinmetz, Amy Du Plessis, Amy Rule tries; Rosie Kelly 7 con, Hannah King con) Hawke's Bay: 29 (Nicolette Adamson 2, Tee Aiolupotea, Denise Aiolupotea, Jade Tangaere-Tahua, tries; Krysten Cottrell 2 con) HT: 40-5
Canterbury scored 84 points when these two sides met in the round-robin and a similar score appeared likely at halftime with Canterbury seamlessly crossing for six tries. The forward pack was hungry and clinical and the Black Ferns midfield pairing of Grace Brooker and Amy Du Plessis cut open the Tui with ease.
Openside Holly Wratt-Groeneweg has returned from an MCL injury and completed a stunning hat-trick in a dozen-minute burst from minutes 13 to 25. The Canterbury Under 19 player of the year looks odds on to land an Aupiki contract.
Canterbury has scored more points (386) tries (59) and conversions (39) than any other team.
To their credit, Hawke's Bay won the second half. Kahila Awa and Krysten Cottrell combined solidly again and there were some strong contributions from the bench especially from Nicolette Adamson a dairy farmer from a football background. A 60m intercept try by former netball defender Tee Aiolupotea was another highlight.
Canterbury beat Auckland in the final in 2020 (30-20) and 2022 (41-14) after Auckland won the first six deciders.

CHAMPIONSHIP
Northland: 29 (Te Kura Ngata-Aerengamate 2, Hikitia Wikaira, Ocean Tierney tries; Pohutukawa Kakara 2 con, Krystal Murray con pen) Otago: 19 (Oceana Campbell, Maia Joseph, (Jamie Church tries; Jospeh con, Georgia Cormick con) HT: 19-5
After three losses to Hawke's Bay in the championship semis, Northland, at last, made the final with a victory built on forward power against Otago.
The hosts decimated the Spirit in the scrum and gained significant traction from their lineout drive. The Northland tight-five of Krystal Murray, Te Kura Ngata-Aerengamate, Kahurangi Shelford, Charmaine Smith, and Corina Blair delivered an authoritative display with momentum retained by the bench.
Smith won a turnover as late as the 77th minute, Ngata-Aerengamate has scored 45 FPC tries, and Murray kicked a sideline conversion and penalty. Ahora Savage, typically a forward, was full of running at second-five.
Otago was hearty and threatened a late comeback with sustained pressure inside the Kauri 22 at 29-19 but they were mostly living off scrapes. If Maia Joseph can get more regular rugby, she'll certainly prick the interests of the national selectors. Centre Cheyenne Cunningham had an outstanding season and winger Jamie Church finished with 11 tries.
In the forwards, Leah Miles was immense on the openside, and hooker Tegan Hollows and lock Julia Gorinski never shirk the challenge.

Manawatū: 73 (Marilyn Live, Rangimarie Sturmey 2, Jashana Teuawiri 2, Layla Sae, Selica Winiata, Sosoli Talawadua, Taufa Bason, Caitlin Burt-Poloai, Paige Lush tries; Winiata 9 con) Tasman: 10 (Cassie Siataga try, con, pen) HT: 33-3
The biggest win in Championship finals history confirmed the Cyclones' favouritism for the title and represented a bitterly disappointing end to Tasman's season.
It was so one-sided that fullback Selica Winiata even jumped in the lineout in the second half. The champion Black Fern also scored her largest haul of the season with 23 points, her try coming from a 60m burst while she set up another with a 40m dash.
Manawatū smashed the Mako set piece and the interchange of handling between backs and forwards was impressive. Second-five Rangimarie Sturmey played a blinder and there was a special moment for 16-year-old Feilding High School student Taufa Bason who scored her first Manawatū try.
Cassie Siataga (first-five) and Sui Pauaraisa (openside) were possibly the best Mako players this season.