New Zealand Māori Ngā Māreikura U18 Girls squad named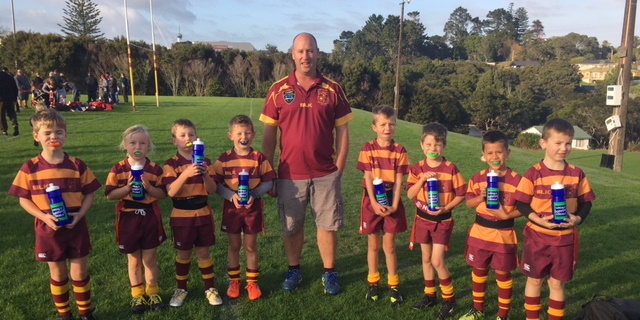 New Zealand Māori Ngā Māreikura U18 Girls squad named
New Zealand Rugby (NZR) have announced the 2023 New Zealand Māori Ngā Māreikura Under 18 Girls squad today, to play in a one-game fixture against the New Zealand Barbarians on October 6 at Navigation Homes Stadium in Auckland.
The Ngā Māreikura 23-strong squad comprises of players from rugby clubs (8) and schools (9) across Aotearoa rewarded for their standout performances this season.
Ngā Māreikura will be led by Bay of Plenty's Jarvy Aoake as Head Coach supported by former Black Fern Stephanie Te-Ohaere Fox (Forwards Coach) and current Matatū player Te Rauoriwa Gapper as Backs Coach.
Aoake said the opportunity to lead has provided him a platform for personal growth.
"Being able to go up against the NZ Barbarians is a positive step forward for Māori girls and women's rugby in Aotearoa. It gives us all the motivation to strive for success and greater growth. I've learned a lot from being involved with this kaupapa for several years and look to weave my learnings into our campaign," Aoake said.
"It's also inpiring to have a core coaching group with vast experience in the Farah Palmer Cup. I aim to uphold the mana (strength) of those who came before and guide our talented group of wāhine (women). I'm excited to see the players learn more about what it means to be Māori in a nurturing and supportive environment."
NZR Māori Rugby Development Manager Tiki Edwards congratulated the wāhine selected for Ngā Māreikura.
"It's a huge privilege and great opportunity for our players to represent their whānau (family), hapū (sub-tribe) and iwi (tribe). I'm looking forward to seeing them fully immerse in the culture as they stay together on a marae for the week and build a sense of pride leading up to the moment they put on the jersey," Edwards said.
"These Māori wāhine are the future of our game and I want to thank the NZ Barbarians for providing us with a quality opposition and we look forward to the challenge that this match will give us."
The NZ Barbarians confirmed their core coaching group headed by Mark Hooper and Jimmy Sinclair, assisted by former Black Fern Kendra Cocksedge and Aleisha Nelson as Scrum Coach. Their official squad list will be announced at a later date.
Schedule
12.00pm | New Zealand Māori U18 Mareikura Girls v NZ Barbarians U18 Girls
New Zealand Māori U18 Nga Māreikura Girls squad 2023
Alizay Grant (Te Whānau-ā-Apanui)
Amber Mundell (Ngāpuhi)
Anahera Hamahona (Ngāti Tūwharetoa (ki Taupō)/ Te Iwi Mōrehu/ Raukawa)
Anyis Drossaerts Lake (Ngāpuhi/ Ngāti Hine/ Ngāti Maniapoto)
Bailey Nightingale (Ngāpuhi/ Tainui)
Braxton Sorensen-McGee (Ngāti Wai)
Georgina Hemopo (Ngāti Ranginui/Tainui)
Hayley Gabriel (Ngā Rauru)
Janelle Dhedadig (Te Ātiawa (Taranaki))
Jordyn Tihore (Ngāti Porou)
Justine McGregor (Ngāti Porou)
Kaea Nepia (Tūhoe)
Keighley Simpson (Te Ātiawa (Taranaki)/Ngāti Maru)
Kesha Church (Ngāti Tūwharetoa)
Kokako Raki (Ngā Maihi)
Lashaye Blake (Tūhoe)
Lucy Mahuika (Ngāi Tahu/Kāi Tahu)
Maia Davis (Ngāti Hineuru/ Ngāti Kahungungu)
Mikaya Kaipo (Te Aupōuri/ Ngāpuhi/Te Rarawa)
Pearl Kahui (Ngā Ruahinerangi)
Penelope Taulafo (Ngāti Hine/Ngāpuhi/Ngāti Hauiti)
Te Atawhai Campbell (Ngāpuhi)
Waimarie Rauhina (Te Iwi Mōrehu/Ngāpuhi/Ngāti Tūwharetoa/Te Ātihaunui-a-Pāpārangi)