Bunnings NPC: Round 7 Review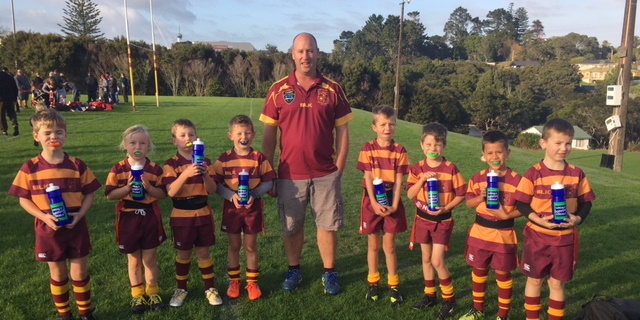 Defending champions and Ranfurly Shield holders Wellington have a six-point buffer at the top of the Bunnings Warehouse NPC competition after the seventh round was completed at the weekend.
Results again significantly affected the points table, with second-placed Auckland dropping to fifth after they were beaten by Waikato 12-27.
Canterbury have moved into second place on 21 points, and their bonus points have allowed them to be one place ahead of Tasman despite having one more win.
Taranaki has moved into fourth place on 29 points, two ahead of Auckland.
Leading points scorers (Unofficial):
Lincoln McClutchie (Hawke's Bay) 92
Fergus Burke (Canterbury) 84
Rivez Reihana (Northland) 69
Aidan Morgan (Wellington) 64
Zarn Sullivan (Auckland) 64
Lucas Cashmore (Bay of Plenty) 52
Oscar Koller (Counties Manukau) 52
Leading try scorers:
Heremiah Murray (Northland) 7
Blair Murray (Canterbury) 6
Losilosi Filipo (Wellington) 6
Michael Manson (Southland) 6
Canterbury warmed things up with a third-minute driving maul, resulting in hooker Ben Funnell scoring. An indiscretion off the ball by No8 Hoskins Sotutu allowed Canterbury's first five-eighths to land a penalty goal for a 10-0 lead, but that resulted in the home team lifting, and they marked their first lengthy excursion in Canterbury's 22m area with a try to lock James Thompson skirting unchallenged around a goalline ruck. Second five-eighths AJ Alatimu levelled the scores moments later with a penalty goal. Counties Manukau rode their continuity game to pressure the Canterbury defence. When fullback Joshua Gray burst into the line, it provided more momentum, and after prop Ezekiel Lindenmuth twice featured. Close to the line, Ioane Moananu stepped into a gap to score. Just before the turn, Canterbury prop Daniel Lienert-Brown took a tap penalty five metres out and got over to level the scores at 17-17.
Into the second half, flanker Tom Christie will not score an easier try from a lineout maul. He played halfback, ran blind, sold a dummy and scored. Then, three minutes later, No8 Cullen Grace scored from close-quarter play near the line. But the home team wasn't done. A tap penalty by Sotutu close to the line saw replacement forward Adam Brash trim the margin with a try. With Counties Manukau within five points, neither team could add to their score until the 80th minute, after Christie was sin-binned in front of Canterbury's posts. The home team took the scrum, and Sotutu ran from the base and, from the goal line ruck, the ball went right where wing Blake Makiri dived over in the corner to level the scores. Up stepped centre Tevita Ofa to kick the conversion from the sideline to complete an outstanding win.
Counties Manukau 31 (James Thompson, Ioane Moananu, Adam Brash, Blake Makiri tries; AJ Alatimu con, pen; Tevita Ofa 3 con) Canterbury 29 (Ben Funnell, Daniel Lienert-Brown, Tom Christie, Cullen Grace tries; Fergus Burke 3 con, pen). HT: 17-17
Building up from a lineout drive and moving the ball through phases, Hawke's Bay scored the opening try five minutes into the game when flanker Sam Smith charged onto a ball outside the Manawatū defensive line. Three minutes later, a nifty inside pass to lock Geoff Cridge saw him charge 70m downfield to be dropped short of the line, but the ball was moved to No8 Marino Mikaele-Tu'u, who scored on the right. A turnover was moved to Mikaele-Tu'u, and he flicked the ball to halfback Brad Weber, who scored. Moments later, Weber was in again after lead-up work by second five-eighths Chase Tiatia, centre Nick Grigg and wing Ollie Sapsford. Manawatū got on the board, courtesy of a stunning 45m break by fullback Beaudein Waaka who scored.
After a Weber try was ruled out due to a forward pass, Hawke's Bay was undeterred, and Grigg raced in to extend the score. Well-moved ball saw Sapsford cross before a second for Grigg was ruled out. But Mikaele-Tu'u did better off the back of an attacking scrum to score his second. Replacement back Sam Wye benefited from a chip kick ahead and had too much pace for the chasing defence.
Hawke's Bay 57 (Sam Smith, Marino Mikaele-Tu'u 2, Brad Weber 2, Nick Grigg, Ollie Sapsford, Sam Wye tries; Lincoln McClutchie 7 con, pen) Manawatū 7 (Beaudein Waaka try; Isaiah Armstrong-Ravula con). HT: 31-7
Playing at Bell Park in Pakuranga, Auckland conceded the first points when Waitako wing Aki Tuivailala marked his debut for the side with a well-worked try on his left wing. Into the second quarter, Auckland strung together a play that was boosted when flanker Blake Gibson burst into vacant territory to set up a ruck that resulted in No8 Vaiolini Ekuasi diving over in the left corner for a try. However, things became ominous when Waikato centre Tana Tuhakaraina burst through and linked inside to halfback Xavier Roe, who ran in a try. It was ominous because three minutes before halftime, after three goalline rucks, Roe ducked around the blindside to score his second.
Sitting on a 17-5 halftime lead, they moved beyond the 14-point advantage when first five-eighths Isaiah Cook-Savage snapped over a dropped goal. Then, the Tuhakaraina-Roe combination saw Roe complete a hat-trick of tries. Auckland forward replacement Che Clark capped an impressive team attack when thrusting through a gap to set up a ruck that resulted in first five-eighths Zarn Sullivan running against the tide to take a pass to score. However, it was only a temporary respite for Auckland as Waikato held on for a convincing win.
Auckland 12 (Vaiolini Ekuasi, Zarn Sullivan tries; Sullivan con) Waikato 27 (Aki Tuivailala, Xavier Roe 3 tries; Tepaea Cook-Savage 2 con, dropped goal). HT: 5-17

North Harbour opened a try-fest in Albany when lock Ben Grant's run was stopped under the crossbar but with enough momentum for halfback Jamie Booth to pop a short pass to fullback Shaun Stevenson to score. Back in the goalmouth, the ball was moved wide for wing Kade Banks to score. Northland took 29 minutes to create a chance, and a midfield combination of Jack Goodhue, Rene Ranger and Jordan Trainor gave fullback Josh Moorby the run-in to score. But the bad news was it unleashed the home team where Stevenson took a superb in-pass from first five-eighths Bryn Gatland at halfway and waltzed his way in and around defenders to score an outstanding try. A turnover was kicked ahead, and Banks had the speed to outpace the defence to give North Harbour a 26-10 lead.
It took a TMO ruling to award Northland the first try of the second half to wing Heremiah Murray when the ball rebounded from Trainor's attempted pass to a home player before Murray pounced on the ball in goal. They followed that from deep in their half when Murray kicked into the 22m area where Northland regained the ball, and first five-eighths Rivez Reihana scored. The third try in 10 minutes gave Northland a 31-26 lead, courtesy of some outstanding catching and running skills by prop Jarrod Adams before flanker Jonah Mau'u scored. Northland had a try ruled out for a Goodhue jersey pull, and with replacement Lotu Inisi running rampant, North Harbour stormed home. Banks set up Inisi for a second try – the 11th of the game.
North Harbour 50 ( Shaun Stevenson 2, Kade Banks 2, Tevita Mafileo, Lotu Inisi 2 tries; Bryn Gatland 6 con, pen) Northland 31 (Josh Moorby, Heremiah Murray, Rivez Reihana, Jonah Mau'u tries; Reihana 4 con, pen). HT: 26-10

Taranaki made a flying start in Dunedin after some powerful early hit-ups that allowed halfback Logan Crowley to score the opening try 107 seconds after the start. But they weren't so assured in their own 22m area, and when a pass from first five-eighths Stephen Perofeta went to ground, Otago secured it. Second five-eighths, Jack Leslie and lock Fabian Holland took the ball to the line, and eventually, it was released for wing Jona Nareki to do the damage on the left flank. Taranaki had their chances to extend their lead but fell short of the line, and by committing penalties, fullback Sam Gilbert converted three of them into goals for a 14-7 Otago lead.
Into the second half, Otago lost flanker Tom Sanders to the sin bin for a dangerous tackle, and they paid the price with the inevitable kick to the corner and a rolling maul try to hooker Brad Slater. Another Gilbert penalty levelled the scores at 17-17. But that was as close as they got after No8 Kaylum Boshier's grubber kick sat up perfectly for substitute halfback Adam Lennox to get the bounce and run away to score. Second five-eighths Murray Grindlay ran onto a perfect pass to give fullback Jacob Ratumaitavuki-Kneepkens space down the right flank to score. A few minutes from the end, Ratumaitaivuki-Kneepkens chipped into the 22m, and when the bounce fooled the first followers, replacement Josh Jacomb was well placed to complete the try.
Otago 17 (Jona Nareki try; Sam Gilbert 4 pen) Taranaki 36 (Logan Crowley, Brad Slater, Adam Lennox, Jacob Ratumaitavuki-Kneepkens, Josh Jacomb tries; Stephen Perofeta 4 con, pen). HT: 14-7

Wellington took 15 minutes to get their scoring started in Rotorua. After the forwards had their go, the ball was moved to the backs, where right-wing Losilosivale Filipo had the time and room to get up enough speed to blast past the cover defenders to score. Four minutes later, the pack was rewarded when tighthead prop Siale Lauaki barrelled across to score. On the half-hour, Bay of Plenty put their lineout drive to the test, and it was No8 Penitoa Finau who got them on the board. Just on halftime, Bay of Plenty turned the ball over. Wellington worked their way down the field more assuredly, and flanker Brad Shields made no mistake when he had the chance to score.
It was the 55th minute when, from broken play, replacement back Reon Paul made light of Wellington's defence and stepped into space before clearing out for the try. Wellington managed to defend their seven-point lead, but a turnover in their territory four minutes from the end saw first five-eighths Aidan Morgan open up space down the right touchline. Bay of Plenty cleared the ball to touch, but from the lineout, replacement hooker Penieli Poase put the issue beyond doubt with a maiden try.
Bay of Plenty 14 (Penitoa Finau, Reon Paul tries; Wharenui Hawera 2 con) Wellington 26 (Losilosivale Filipo, Siale Lauaki, Brad Shields, Penieli Poase tries; Aidan Morgan 3 con). HT: 7-21

First five-eighths, Fergus Burke threaded the eye of Southland's defensive needle on a blindside break to open the scoring for Canterbury at Addington. Two minutes later, in the 17th minute, Burke's pass put wing Ngatungane Punivai into a gap to blast through for the second try. Southland was rewarded for solid work that pressured Canterbury to receive a warning for too many penalties. When Southland got a lineout drive going, hooker Nic Souchon detached from the maul to score.
Making the perfect start to the second half, Southland claimed the lead when lock Danny Drake spun out of a tackle and over the line to score. Into the final quarter, with their replacements on the field, relentless driving play eventually opened a chance for replacement hooker George Bell to score. In the last five minutes, Burke took control with two critical pieces of play, the second of which saw replacement No8 Cullen Grace handily placed to take the ball and feed supporting replacement halfback Willi Heinz to extend the lead. Then Burke ensured the win with a 50m penalty goal.
Canterbury 29 (Fergus Burke, Ngatungane Punivai, George Bell, Willi Heinz tries; Burke 3 con, pen) Southland 14 (Nic Souchon, Danny Drake tries, Dan Hollinshead 2 con). HT: 12-7
Strong wind made conditions difficult in Blenheim, but the visiting Counties Manukau team made the most of it after a lineout on the Tasman line was taken by the home team, only for flanker Setaleki Baker to drop the ball with hooker Ian West-Stevens on hand to collect it and dive over for a try. A penalty goal landed by centre Tevita Ofa extended the lead to 10-0. However, Tasman responded wing Timoci Tavatavanawai was rewarded for an earlier break when receiving the ball from second five-eighths Alex Nankivell. He beat the tackle attempts of two defenders to score. Near the end of the half-breaks by Nankivell, No8 Anton Segner and halfback Noah Hotham took play within 10 metres of the visitors' line. They tried to clear the ball, but centre Levi Aumua's tackle and turnover saw Nanikivell go close before he was tackled. From the ruck first five-eighths, Taine Robinson threw a dummy and opened a gap to score. The break came with the score 10-10.
Tasman played with the wind at their back in the second half. Nankivell made light of Counties' tackle pressure inside his half and broke down the blindside to beat three tackles before putting wing Willi Gualter on a run to the score to break the deadlock. A Tavatavanawai breakdown turnover resulted in a penalty kick to the corner, where replacement hooker Quentin MacDonald scored another try on the end of a drive. Ten minutes from the end, a Hotham break from a lineout maul took play 5m short of the line. Thirteen phases were strung together before fullback Macca Springer was tackled just short of the line. But quick ball saw flanker Setaleki Baker score to wrap up the win.
Tasman 27 (Timoci Tavatavanawai, Taine Robinson, Willi Gualter, Quentin MacDonald, Setaleki Baker tries; Robinson con) Counties Manukau 17 (Ian West-Stevens, Sean Reidy tries; Tevita Ofa 2 con, pen). HT: 10-10