World Cup Watch: de Groot cops two game ban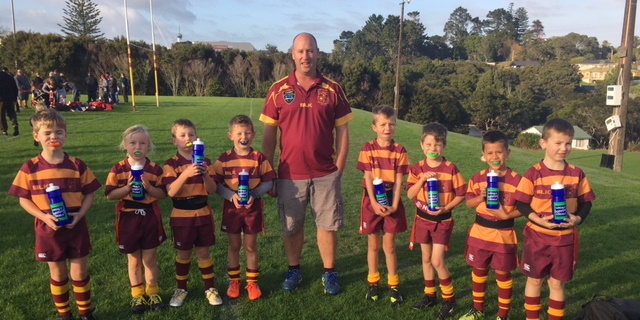 All Blacks prop Ethan de Groot received a two-game ban for his illegal tackle in their game with Namibia.
World Rugby's independent disciplinary committee of Brenda Heather-Latu (Samoa-Chair), John Langford (Australia) and Jamie Corsi (Wales) said after hearing de Groot's submissions and looking at all angles that an act of foul play had occurred.
De Groot had the chance to be in a position to complete a legal tackle. He was in a dynamic tackling position and agreed he needed to be more bent at the waist. Head contact, with high danger, had occurred, and the lack of a wrap of his arms meant the tackle was always illegal.
Because of that, it was a red card offence. That has a mandatory minimum entry point of six games. But taking his acceptance that foul play had occurred and an excellent disciplinary record, the committee allowed the maximum mitigation of 50 per cent, meaning a sanction of three games.
The committee added he could return at the quarterfinal stage of the competition, after two games, should New Zealand qualify if he completed the coaching intervention programme.

Italy coach and former All Blacks fullback Kieran Crowley is wary of Italy's next rival, Uruguay.
"I was in Canada 15 years ago, and they were just starting to get their systems right. They have got a centralised programme in Montevideo. Most of their team plays for a club in the Central American championship. Then you add the players who play in France, and you have a pretty formidable team.
"They have got 19 players who have been to one or two World Cups. We are expecting that physical battle. You saw in the France game that their breakdown work was outstanding."
Crowley has moved impressive attacker Ange Capuozzo back to fullback for the game, where he expected him to have more chances with the ball in hand. Capuozzo had made such an impression in his first season because none of their opponents knew him.
"The first year you come on to the scene, you have a great one. It's the second year that tells you the direction you will go. You have to keep working on your game and handle the pressure other teams put on you. And also the pressures of the press and supporters.
"As far as Ange is concerned, he is handling it very well. We try to manage his commitment as he is a player who is asked to be at everything and you can't do that. You have to look after these guys so we are managing things around him."
South Africa may have called up first five-eighths Handre Pollard as an injury replacement at the World Cup for hooker Malcolm Marx. Still, director of rugby Rassie Erasmus said he will not feature in their game against Ireland at the weekend.
Erasmus told the media on Monday, "He will definitely not be selected this week apart from if there are two or three injuries. He's only just joined us today. He must get up to speed with the intensity of our training sessions, get through them and slot in nicely."
Manie Libbok is the only other first five-eighths in the Bok squad.
Erasmus added, "We've only played two games of this World Cup, so I'm pretty sure somebody will press on his button and use him, but not this weekend."
It was confirmed that injured lock Eben Etzebeth would be fit for consideration against Ireland.