New Zealand Schools and U18s Match Wrap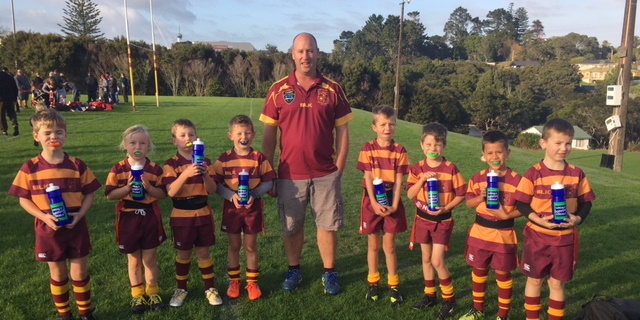 New Zealand Schools and U18s Match Wrap
The next generation impressed spectators at St Paul's Collegiate, Hamilton when the New Zealand Schools team, New Zealand Barbarians Under 18, New Zealand Māori Ngā Whatukura Under 18's and Northland Under 19's took to the field.
The New Zealand Barbarian Under 18 team, provided the perfect preparation for the New Zealand Schools side, before they head to Australia to face the Australian Under 18's next week. In a competitive fixture between the two teams, it was the New Zealand Schools who grabbed the victory over the New Zealand Under 18 Barbarians.
Behind a bigger, athletic, and more efficient forward pack, Rico Simpson ran rampant. The first five showed a full array of skills as the Barbarian defence struggled to contain the Sacred Heart playmaker.
New Zealand School's fifth try where Simpson craftly deflected the ball to Oli Mathis and the Hamilton Boys' openside stormed 60m down the sideline, bamboozling the fullback on his way to the chalk, was the highlight of a vibrant contest.
The Barbarians held New Zealand to 17-12 after 20 minutes with Crusaders Under 18 centre Cooper Roberts incisive. He helped set up two tries for both wingers.
However, stopping the towering presence of locks Aisake Vakasiuloa and Josh Tengbald as well as the loose forward trio of Quinten Holland, Mathis and Mosese Bason took its toll though Barbarian captain Brooke Mitchell refused to submit meekly.
Bason is a product of Feilding High School. He has a brother and sister playing for Manawatū. The No.8 appears to have the credentials to join his siblings quickly on this display. Rugged hooker Shaun Kempton is a success story out of Selwyn Combined, and both halfbacks Dylan Pledger (King's High School, Dunedin) and Charlie Sinton (Tauranga Boys' College) cleared promptly and weren't afraid to snipe around the rucks. Pledger scored the first try of the game with a 40m burst.
New Zealand Schools: 57 (Oli Mathis 2, Mosese Bason 2, Dylan Pledger, Josh Tengbald, Tayne Harvey, Shaun Kempton tries; Rico Simpson 7 con, pen) New Zealand Barbarian U18: 22 (Kyan Rangitutia 2, Nathan Salmon tries; Hugh Robinson con) HT: 36-12
A well-drilled and vibrant New Zealand Māori Ngā Whatukura Under 18 side convincingly beat Northland Under 19 62-0. The Māori U18's often exploited the right side of the Northland defence with Hamilton Boys' High School winger Kurtis Hana scoring three polished tries on his side.
Hone Mathieson is just one example of a New Zealand Māori U18 player from a smaller school flourishing on a bigger stage. The head prefect of Te Kuiti High School (Sir Colin Meads alma mater) replaced Westlake Boys' High School first-five Blake Lidgard at halftime and showed he belonged with an assured and clinical display.
Will Cole, typically a first-five at Rathkeale College, shined at fullback and hooker Hoani Nikora-Wilson showed the mongrel that helped Southland Boys' High School win the National Top Four.
It was a good day for the Sturmey family with Quinn in strong form on the blindside and sister Rangimarie featuring in the Black Ferns XV match against Manusina.
The New Zealand Māori Under 18 play New Zealand Barbarian Under 18 on Thursday who they beat 37-26 in 2022.
New Zealand Māori Ngā Whatukura U18: 62 (Kurtis Hana 3, Will Cole 2, Hiraka Waitai-Haenga 2, Hoani Nikora-Wilson, Hone Mathieson, Jimmy Pender tries; Blake Lidgard 2 con, Mathieson 4 con) Northland U19: 0 HT: 24-0
Thursday 28 September
New Zealand Barbarian Under 18 v New Zealand Māori Under 18 – Midday (St Pauls Collegiate, Hamilton)
Australia Under 18 v New Zealand Schools – 2pm local time (Viking Park, Canberra)
Monday 2 October
Australia Under 18 v New Zealand Schools – 11am local time (Viking Park, Canberra)