Round 8 Review: Lions juggernaut rolls on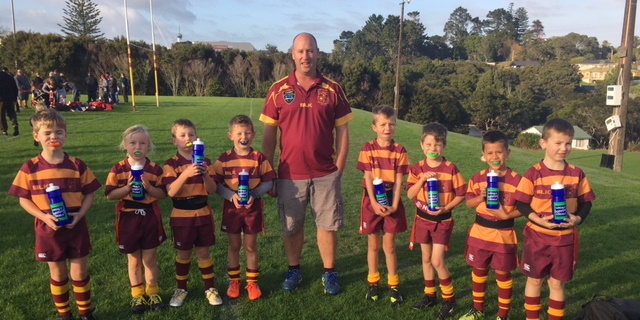 Final places in the Bunnings NPC playoffs will have Bay of Plenty (who have a game in hand against Southland who have yet to win a game), Waikato, Counties Manukau and North Harbour sweating in next weekend's final round of games.
Bay of Plenty have 25 points in the bank in seventh place, with games against Southland and Tasman to play. Waikato is eighth, on 24, and will play Canterbury. Counties Manukau is one point behind and playing Otago, while North Harbour is two points back and away to Taranaki.
If the playoffs were played based on the competition after round eight*, they would see:
Wellington v Waikato
Canterbury v Bay of Plenty
Taranaki v Auckland
Tasman v Hawke's Bay
Hawke's Bay's Lincoln McClutchie became the first player to register 100 points in the competition. Other unofficial leading scorers are:
Lincoln McClutchie (Hawke's Bay) 100
Fergus Burke (Canterbury) 99
Rivez Reihana (Northland) 82
Aidan Morgan (Wellington) 75
Zarn Sullivan (Auckland) 75
Leading try scorers are:
Heremaiah Murray (Northland) 8
Losilosivale Filipo (Wellington) 7
Michael Manson (Southland) 6
Blair Murray (Canterbury) 6
Salesi Rayasi (Auckland) 5
Manaaki Selby-Rickit (Bay of Plenty) 5
Josh Gray (Counties Manukau) 5
Etene Nanai-Seturo (Counties Manukau) 5
Brad Weber (Hawke's Bay) 5
Macca Springer (Tasman) 5
Northland took only two minutes to register the first try, coming off a long pass from first five-eighths Rivez Reihana to centre Tamati Tua. After taking the ball, he lost his footing but got back up to make a grounding in the corner. It took the Bay until 20 minutes, with Northland's No8 Jonah Mau'u in the sin-bin, to get across from a lineout maul when hooker Kurt Eklund scored. They added another when lock Manaaki Selby-Rickit leaned back in a maul, took the ball and broke into space 15m out from the line to score. Northland stayed in the chase due to some fine goal-kicking by Reihana, but a penalty goal on halftime by BOP fullback Wharenui Hawera gave them an 18-16 lead.
It took until three-quarters time before the score changed. Bay of Plenty stopped when a ball was dropped by blindside flank Naitoa Ah Kuoi and kicked ahead by one of his team. However, Northland fullback Josh Moorby took the ball and ran it from within his 22m area. He sent a pass to Reihana, who stab-kicked ahead for wing Heremaiah Murray to run onto the ball. He collected it, chipped ahead to get the bounce and score a try from nothing. The Bay turned the pressure back on Northland when they set up play on halfway and moved the ball right where Hawera's pass was ruled legitimate. Wing Fehi Finanganofo rounded his man and then accelerated into the corner to reclaim the lead. Hawkins landed a penalty goal to level the scores with eight minutes to play. BOP had the final say two minutes out when prop Josh Bartlett was muscled over the line to score the match-winner.
Northland 26 ( Tamati Tui, Heremiah Murray tries; Rivez Reihana 2 con, 3 pen; Dan Hawkins pen) Bay of Plenty 32 (Kurt Eklund, Manaaki Selby-Rickit, Fehi Fineanganofo, Josh Bartlett tries; Wharenui Hawera 3 con, 2 pen). HT: 16-18

Manawatū ran the ball from the kickoff, and when flanker Slade McDowall was held upright in a tackle, No8 Brayden Iose pulled the ball down and forced his way across the line for the try. But, in the 15th minute, Counties Manukau's prolonged mauling drive resulted in their first try to prop Suetana Asomua. Manawatū's mauling play saw second five-eighths James Tofa go over the top of the ruck to score. Turning play to their backs, the home team moved the ball well for wing Josh Gray to dive over at the corner for the try. Moving into rapid response mode, they scored within minutes after Riley Hohepa stepped into space. Flanker Sean Reidy took a pass and kept his poise when going to the ground, only to get up and get the ball down. They extended their lead through Ian West-Stevens' try on the back of a lineout maul.
Thirty-five seconds into the second half, fullback Etene Nanai-Seturo completed the punishment for a restart mistake by unleashing his running skills to score. That proved a trigger for the home side to throw the ball around more, and Gray picked up his second try after a 70m movement. Another Nanai-Seturo run ended with replacement hooker Ioane Moananu scoring. He scored a second from a 60th-minute lineout drive. Iose ended the game as he started on the end of a blindside play to score.
Counties Manukau 46 (Suetana Asomua, Josh Gray 2, Sean Reidy, Ian West-Stevens, Etene Nanai-Seturo, Ioane Moananu 2 tries; Tevita Ofa 3 con) Manawatu 19 (Brayden Iose 2, James Tofa tries; Isaiah Ravula 2 con). HT: 24-14

Southland scored first in Invercargill when a scrum in front of Hawke's Bay's goalposts disintegrated, but not before the ball was cleared for second five-eighths Tevita Latu to run back on the angle at speed to punch over beneath the posts to score. But encouraging as that was, it was the last time they troubled the scoreboard. Hawke's Bay turned on the power in their park to score their first through hooker Tyrone Thompson from a lineout maul. Another variation from a five-metre lineout saw the ball moved through the pack for No Marino Mikaele-Tu'u to punch over for the try. Scrum power succeeded again when, from a post-scrum ruck, flanker Josh Kaifa ran onto the ball, veered left and went over by the posts.
Eight minutes into the second half, the Bay moved the ball on the short side, quick handling getting the ball to wing Ollie Sapsford. He ran hard down the sideline. Fellow wing Jonah Lowe supported to take the ball and pass it inside again for fullback Lolagi Visinia to find halfback Brad Weber on hand to score. Southland failed to make the most of two chances to score, and when Hawke's Bay swept back downfield, Kaifa provided momentum when breaking the line. He passed to halfback replacement Folau Fakatava, who was in support. His speed took him to the in-goal before he turned and gave Kaifa the ball to score.
Southland 7 (Tevita Latu try; Greg Dyer con) Hawke's Bay 33 (Tyrone Thompson, Marino Mikaele-Tu'u, Josh Kaifa 2, Brad Weber tries; Lincoln McClutchie 4 con). HT: 7-19

A three-try blitz within 17 minutes midway through the first half by Canterbury playing at home proved a bridge too far for Tasman. Flanker Tom Christie and wings Manasa Mataele and Solomon Alaimalo crossed for tries, with first five-eighths Fergus Burke firing at 100 per cent with his goal-kicking boot and landing two penalty goals, got Canterbury out to a 27-3 lead after 35 minutes. Tasman pegged one back when Macca Springer scored.
While Tasman scored two tries in five minutes midway through the second half to wing Timoci Tavatavanawai and first five-eighths, and goal-kicker Taine Robinson to get Tasman within two points, a 63rd-minute penalty goal to Burke pushed Canterbury to a five-point lead. Robinson added a penalty goal with six minutes to play, but that was as close as Tasman could get.
Canterbury 30 (Tom Christie, Manasa Mataele, Solomon Alaimalo tries; Fergus Burke 3 con, 3 pen) Tasman 28 (Macca Springer, Timoci Tavatavanawai, Taine Robinson tries; Robinson 2 con, 3 pen). HT: 27-13

It came down to who could land crucial penalty goals in the latter stages of a tight tussle played in pouring rain in New Plymouth, and it was the home team who fared best. Conceding three penalties within the first seven minutes, Auckland found Taranaki using their lineout drive to effect for hooker Ricky Riccitelli to score the first try. However, Taranaki had their penalty issues and first five-eighths, Zarn Sullivan landed two penalty goals to claim a 6-5 lead. And, in the 20th minute, under penalty advantage, Auckland's centre Bryce Heem controlled a pass that went to the ground. He fed wing Salesi Ryasi into the corner to score. Another Sullivan penalty goal in the 27th minute took Auckland to 16-5, but a rare Taranaki breakout was rewarded when flanker Tom Florence scored.
First five-eighths, Jayson Potroz landed a penalty goal to get Taranaki within one point. Then, when Auckland replacement halfback Taufa Funaki was caught attempting to clear the ball from a maul, a penalty was conceded. Replacement back Josh Jacomb stepped up to land a 35m goal to claim the lead. A scrum penalty earned by Auckland gave Sullivan a chance to reclaim the lead, but his kick went wide while a full-time dropped goal attempt also proved too long, and the win, the first since 2017 over Auckland, was the home team's prize.
Taranaki 18 (Ricky Riccitelli, Tom Florence tries; Jayson Potroz con, pen; Josh Jacomb pen) Auckland 16 (Salesi Rayasi try; Zarn Sullivan con, 3 pen). HT: 12-16

Wellington extended its Ranfurly Shield reign with a comprehensive win over North Harbour at Jerry Collins Stadium in Porirua. Shutting down opportunities for North Harbour to get its attacking game going and containing the threat fullback Shaun Stevenson posed proved crucial. Wing Losilosivale Filipo crossed first for Wellington after 15 minutes, and 13 minutes later, centre Billy Proctor scored. North Harbour's first five-eighths, Bryn Gatland, landed two penalty goals as the sides turned with Wellington leading 14-6.
Four minutes after the restart first five-eighths, Aidan Morgan made Harbour's task harder, and that was confirmed with 10 minutes remaining when fullback Ruben Love scored. North Harbour was held scoreless throughout the second half, a measure of the pressure Wellington could impose. It faces Hawke's Bay in its last challenge game of the season next weekend.
Wellington 26 (Losilosivale Filipo, Billy Proctor, Aidan Morgan, Ruben Love tries; Morgan 3 con) North Harbour 6 (Bryn Gatland 2 pen). HT: 14-6

Waikato made the most of the return of former All Blacks first five-eighths Aaron Cruden to race out to a 28-0 lead at halftime, the first two tries of the game being scored by Cruden. He backed that by contributing five conversions with his boot as Waikato added first-half tries to hooker Pita Anae Ah-Sue and flanker Samipeni Finau.
Otago held Waikato out in the third quarter, but then No8 Simon Parker continued the Waikato onslaught by resuming the scoring momentum. Second five-eighths Austin Anderson followed with another 10 minutes later while five minutes from the end, wing Tepaea Cook-Savage scored, and Daniel Sinkinson added the conversion. Otago had the final say, with lock Fabian Holland scoring a consolation try with two minutes remaining.
Waikato 47 (Aaron Cruden 2, Pita Anae Ah-Sue, Samipeni Finau, Simon Parker, Austin Anderson, Tepaea Cook-Savage tries; Cruden 5 con; Daniel Sinkinson con) Otago 7 (Fabian Holland try; Sam Gilbert con). HT: 28-0

*The final game of round eight will see Southland host Bay of Plenty in Invercargill on Wednesday 27 September at 7.05pm.