Round 9 Review: Quarterfinalists found and Southland taste success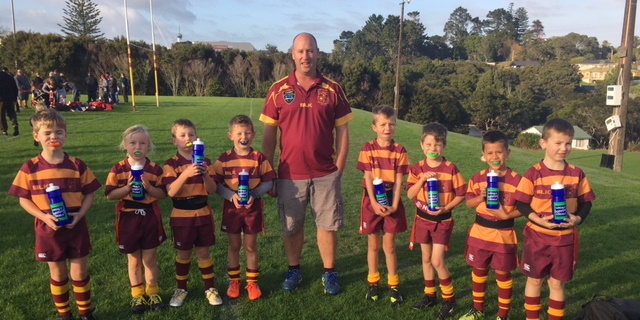 Wellington lost the Ranfurly Shield to Hawke's Bay on Saturday but still managed to finish top of the table by five points to claim a Bunnings NPC quarterfinal against Waikato next weekend.
Elsewhere, Taranaki will host Tasman, Canterbury will be at home against Auckland, and Bay of Plenty will host Hawke's Bay.
The Ranfurly Shield loss was the most significant upset of the final round, but Waikato's 37-35 win over Canterbury wasn't far behind.
Tasman's 41-12 loss to Bay of Plenty in Tauranga meant it lost the chance for a home playoff, and they will have to play Taranaki next weekend. Not that Bay of Plenty gained too much as they will host the new Ranfurly Shield holders Hawke's Bay.
Leading scorers after 9 rounds are:
Fergus Burke (Canterbury) 109
Lincoln McClutchie (Hawke's Bay) 105
Zarn Sullivan (Auckland) 87
Rivez Reihana (Northland) 86
Aidan Morgan (Wellington) 83
Leading try scorers are:
Heremaia Murray (Northland) 8
Maanaki Selby-Rickit (Bay of Plenty) 7
Losilosivale Filipo (Wellington) 7
Blair Murray (Canterbury) 6
Etene Nanai-Seturo (Counties Manukau) 6
Josh Gray (Counties Manukau) 6
Michael Manson (Southland) 6
Bay of Plenty's lineout drive didn't produce a try for the forwards, so it was eventually given to the backs and fullback Wharenui Hawera coming into the line, with a long pass put left-wing Fehi Fineanganofo into space to open the scoring after three minutes. Eight minutes later, lock Manaaki Selby-Rickit exhibited his danger close to the line with a try. Southland struck back in the 20th minute when, from a lineout maul going nowhere, he darted around the open side to score in a tackle. They backed that up when Hawera threw a pass picked up by wing Viliami Fine, who ran 50m to score. Then, before halftime, from a series of rucks close to the line, replacement forward Tevita Latu scored by the posts.
It took until the 56th minute in the second half, but Bay of Plenty got their lineout drive working, and hooker Kurt Eklund scored. Four minutes later, a storming run by Finanganofo took play deep into the Southland 22m area and in the follow-up play, they created a chance for flanker Naitao Ah Kuoi, out in the backline to score, and Hawera's conversion gave them the lead. Five minutes from time, replacement fullback Dan Hollinshead landed a penalty goal to get the lead at 23-22, but a penalty was conceded at the restart, and from it, Hawera landed the goal to secure the lead. Hollinshead had two last-minute chances to land penalty goals, but the first was wide and the second short.
Southland 23 (Jay Renton, Viliami Fine, Tevita Latu tries; Dan Hollinshead con, 2 pen) Bay of Plenty 25 (Fehi Fineanganofo, Manaaki Selby-Rickit, Kurt Eklund, Naitoa Ah Kuoi tries; Wharenui Hawera con, pen). HT: 20-10
Northland's early indiscipline saw them concede a penalty goal and then have lock Liam Hallam-Eames sin-binned. During his absence, Auckland flanker Che Clark burst over from a lineout drive ruck for a try. But, typically, Northland No8 Matt Matich set up the response. He fed left-wing Heremiah Murray down the sideline to link with fullback Jordan Trainor who scored. Then, veteran second five-eighths Rene Ranger effected a turnover for Northland to run the ball with flanker Rob Rush on the end of the line to score. A second yellow card to lock Sam Caird allowed Auckland to mount another lineout drive with lock Josh Beehre scoring. Rob Rush picked off a turnover, and centre Tamati Tua was given a clear run to score, giving Northland a 19-17 halftime lead.
Auckland waited 22 minutes to reclaim the lead from a Zarn Sullivan penalty. It proved only a temporary respite as replacement hooker Jordan Olsen burrowed through goal-line defenders to score. Auckland replacement back Corey Evans was just short, but after the full-time hooter, and with their scrum disintegrating, Auckland managed to retain the ball and drive at the line. Replacement prop Marcel Renata launched at the goal line from the ruck to score, giving Sullivan a conversion from in front for the one-point win.
Auckland 27 (Che Clark, Josh Beehre, Marcel Renata tries; Zarn Sullivan 3 con, 2 pen) Northland 26 (Jordan Trainor, Rob Rush, Tamati Tua, Jordan Olsen tries; Rivez Reihana 2 con; Dan Hawkins con). HT: 17-19
Waikato's early lineout steal went uncontrolled just inside their 22m area, and Canterbury flanker Dom Gardiner swooped on the loose ball to score. Waikato responded when hooker Pita Anae Ah-Sue broke with flanker Malachi Wrampling-Alec in support to take a pass to score. Second five-eighths, Austin Anderson burst through the Canterbury midfield, and while there was a ball spill, wing Tepaea Cook-Savage raced onto loose ball in-goal to score. From a scrum in front of the posts, Waikato worked a move for wing Gideon Wrampling to score. But Canterbury came back after a charge down and recovery by centre Dallas McLeod to cross. A quick lineout throw resulted in replacement prop Ollie Jager charging onto the ball to score. Waikato fullback Daniel Sinkinson's break provided halfback Xavier Roe with a try.
Waikato's second-half try to reclaim the lead after 49 minutes was a stunner. Sinkinson provided the thrust from his goal line, and then support emerged from all angles, two quick rucks and a dive by Wrampling resulted in a contender for try of the year. Canterbury produced their own beauty, although not so efficiently, as it took a Waikato carry-back and a Canterbury scrum win, to put halfback Mitch Drummond over. A 22m lineout drive, ruck and ball to the blindside gave lock James Tucker a try. Another sweeping Waikato run produced a penalty goal shot that Cook-Savage landed. It was just as well as Canterbury wasn't finished. Five minutes from the end, replacement hooker Ben Funnell crossed on the back of a lineout maul, but Waikato held on for a three-point win.
Waikato 37 (Malachi Wrampling-Alec, Tepaea Cook-Savage, Gideon Wrampling 2, Xavier Roe, James Tucker tries; Cook-Savage 2 con, pen) Canterbury 35 (Dominic Gardiner, Dallas McLeod, Ollie Jager, Mitch Drummond, Ben Funnell tries; Fergus Burke 5 con). HT: 20-21

Prop Xavier Numia opened the scoring for Wellington after No8 Peter Lakai and wing Losilosivale Filipo made strong runs at the line before the forwards went to work, with Numia powering his over for a try. But a Brad Weber blindside break from a scrum allowed second five-eighths Chase Tiatia to put a low kick to the line, and wing Ollie Sapsford's speed did the rest. Penalty goals to each side gave Wellington a 10-8 lead at the turn.
Wellington held out a 31-phase Hawke's Bay sequence but couldn't halt the momentum, and wing Jonah Lowe reclaimed the lead. Heading into the final quarter, a 48m penalty by home first five-eighths Aidan Morgan levelled the scores. But with seven minutes left, hooker Penieli Poasa crossed from a lineout drive for Wellington. However, Ranfurly Shield nous is a Bay asset, and it was replacement loose forward Sam Smith who got the try for first five-eighths Lincoln McClutchie to kick the match-winning conversion that saw the shield return to Napier.
Wellington 18 (Xavier Numia, Penieli Poasa tries; Aidan Morgan con, 2 pen) Hawke's Bay 20 (Ollie Sapsford, Jonah Lowe, Sam Smith tries; Lincoln McClutchie con, pen). HT: 10-8

Home team Taranaki went into the game knowing a bonus point win would secure their home quarterfinal, and they wasted no time making their point with lock Tom Franklin scoring in the fifth minute. Hooker Bradley Slater went over from a 20th-minute lineout drive. First five-eighths Josh Jacomb went over after a scrum and ruck. Then, after the halftime hooter, he made another similar step through the defence for fullback Jacob Ratumaitavuki-Kneepkens to score.
Up 28-0 at the break, it seemed the final score was academic, but North Harbour found scoring rhythm with centre Tom Barham fielding a Bryn Gatland cross-kick. However, a Pita-Gus Sowakula break allowed Jacomb to give Ratumaitavuki-Kneepkens a second try. Jacomb had to run from 30m for his second. North Harbour showed the ability to find space as wing Kade Banks to score two tries, but they couldn't secure enough position or possession. Replacement hooker Ricky Riccitelli crossed twice from driving mauls giving Jacomb a 24-point haul.
Taranaki 54 (Tom Franklin, Bradley Slater, Josh Jacomb 2, Jacob Ratumaitavuki-Kneepkens 2, Ricky Riccitelli 2 tries; Jacomb 7 con) North Harbour 21 (Tom Barham, Kade Banks 2 tries; Bryn Gatland 3 con). HT: 28-0

Home wing Leroy Carter entered the backline at speed, got through a gap and fed loose forward Naitoa Ah Kuoi in for the opening try. Just before halftime, with Tasman's loose forward Max Hicks sin-binned, lock Manaaki Selby-Rickit continued his remarkable try-scoring when touching down for his seventh.
Second five-eighths Alex Nankivell capped a crunching start to the second half for Tasman, but the home team were after a home quarterfinal, and excellent work on the blindside allowed replacement prop Josh Bartlett to regain the points advantage. They followed that almost immediately when second five-eighths Seamus Bardoul broke from the BOP 22m area to split the defence and pass to centre Melani Nanai to rock Tasman hopes. They did score the almost inevitable lineout-driving try to hooker Quentin MacDonald but the two replacements, halfback Te Teroi Tahuriorangi and outside back Tamiro Armstrong, extended the final margin with tries.
Bay of Plenty 41 (Naitoa Ah Kuoi, Manaaki Selby-Rickit, Josh Bartlett, Melani Nanai, Te Teroi Tahuriorangi, Tamiro Armstrong tries; Wharenui Hawera 4 con, pen) Tasman 12 (Alex Nankivell, Quentin MacDonald tries; Taine Robinson con). HT: 17-0

Counties Manukau scored first at the end of a torrid first quarter through wing Josh Gray but that seemed to awaken the Otago spirit and they produced a lovely ball for fullback Finn Hurley to run into a gap and score. However, visiting wing Etene Nanai-Seturo showed his attacking skills to reclaim the lead. Still, on the back of a run by lock Fabian Holland, Otago scored through wing John Tapueluelu.
Up 14-12 at the turn, Otago poured on the pressure early in the half, and from a lineout second five-eighths, Sam Gilbert got over through defenders to score and was followed soon after by centre Josh Whaanga. Visiting hooker Ioane Moananu closed the gap by five, but replacement No8 Will Stoddart went over from a five-metre scrum. Replacement wing Blake Makiri pulled off an intercept, and then after the final hooter sounded, wing Jeremiah Asi capped a classy break by Hurley to finish the season with the win.
Otago 38 (Finn Hurley, John Tapueluelu, Sam Gilbert, Josh Whaanga, Will Stoddart, Jeremiah Asi tries; Gilbert 4 con) Counties Manukau 22 (Josh Gray, Etene Nanai-Seturo, Ioane Moananu, Blake Makiri tries; Riley Hohepa con). HT: 14-12

It took all season, but Southland got their first win at the last gasp, away from home in Palmerston. Scoring five tries to two, they got in front in the 18th minute when halfback Jay Renton scored the first of two first-half tries to lead 14-5 at the break.
They made their hold on the game even more secure when, after four minutes of the second half, centre Tevita Latu scored and with first five-eighths Marty Banks accurate with his goal-kicking boot, they led 24-5 with 33 minutes remaining. No8 Brayden Iose got one back for the home team, but then replacement back Scott Gregory and second five-eighths Matt Whaanga scored to round out the season, but it wasn't enough to get them off the bottom of the table.
Manawatu 12 (John Poland, Brayden Iose tries; Beaudein Waaka con) Southland 37 (Jay Renton 2, Tevita Latu, Scott Gregory, Matt Whaanga tries; Marty Banks 3 con, pen; Dan Hollinshead pen). HT: 5-14