New Zealand Barbarian U18 Girls squad announced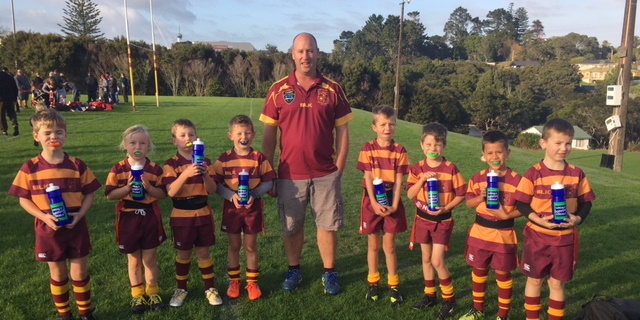 New Zealand Barbarian U18 Girls squad announced
The New Zealand Barbarian Rugby Club have named their U18 Girls squad to play in a one-game fixture against the New Zealand Māori Ngā Māreikura U18 Girls this Friday (October 6) at Navigation Homes Stadium in Auckland.
The 23-strong New Zealand Barbarian squad sees 10 provinces represented (Southland, Otago, Auckland, North Harbour, Manawatū, Canterbury, Counties Manukau, Hawke's Bay, Taranaki and Tasman).
Mark Hooper and Jimmy Sinclair will lead the side, assisted by former Black Ferns Kendra Cocksedge and Aleisha Nelson as Scrum Coach.
Hooper said the match is a wonderful occassion for the group of talented young female rugby players.
"Our New Zealand Barbarian squad have been identified for their abilities and it's a huge opportunity for them to wear the famous Barbarian jersey. As a coaching group we look forward to bringing them together and witness their growth as rugby players over the coming week," Hooper said.
Cocksedge said she is looking forward to sharing her knowledge and experiences with the next generation of players.
"There is so much talent coming through the U18 Girls space and I have had the pleasure in my job as Women's Participation Manager at New Zealand Rugby to watch some of these young females come through the system over the past five years. I can't wait to work with them," Cocksedge said.
New Zealand Barbarian Club Captain Pete White said it's an exciting development opportunity for girls and women's rugby overall.
"The outstanding success of the Black Ferns at last year's Rugby World Cup has lifted the profile of women's rugby and we see this match as a marvellous opportunity to recognise the best up and coming players around the country," White said.
"We have a strong and experienced coaching group that will help showcase the talent of our New Zealand Barbarian squad. The week-long campaign will be a highlight of their young careers where lifelong friends will be made and where they will experience the camaraderie and spirit that the New Zealand Barbarians are known for."
The New Zealand Māori Ngā Māreikura U18 Girls squad was named earlier in September, read more about it here.
Schedule
12.00pm | New Zealand Māori Ngā Māreikura U18 Girls v New Zealand Barbarians U18 Girls
New Zealand Barbarian U18 Girls squad 2023
Abby Smith (Southland)
Abigail Paton (Otago)
Angelica Mekemeke Vahai (Auckland)
Ashlee Matapo (North Harbour)
Danica Talitonu (Manawatū)
Danny-Elle Fesolai (Auckland)
Gillian Fa'aumu (Auckland)
Hannah Lithgow (Otago)
Harriet Cochrane (Canterbury)
Jayda Maniapoto (Manawatū)
Joy Vaaga (Counties Manukau)
Kyah Whaitiri-Dee (Hawke's Bay)
Louise Blyde (Taranaki)
Loren Edwards (Canterbury)
Mataele (Daele) Vaea (Auckland)
Milahn Ieremia (Auckland)
Phoenix Stowers (Hawke's Bay)
Nia Sutherland (Manawatū)
Sariyah Paitai (Counties Manukau)
Sarah Jones (Tasman)
Taufa (Mele) Bason (Manawatū)
Tayla-Benet Masoe (Auckland)
Traest Mafileo (Manawatū)
Management
Coaches – Mark Hooper and Jimmy Sinclair
Assistant Coach – Kendra Cocksedge
Scrum Coach – Aleisha Nelson
Manager – Kere Maihi
Physiotherapist – Emily Knight