Silent Strength: Roman Tutauha's journey to 100th Whanganui match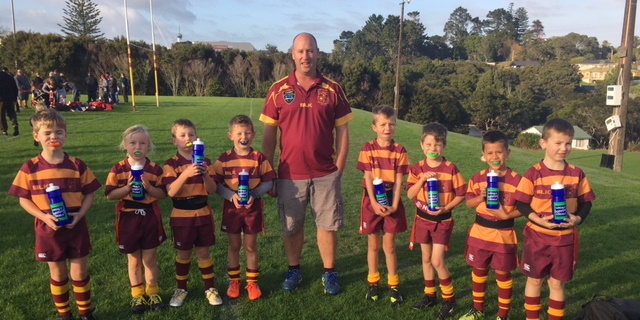 It took some persuasion for Roman Tutauha (Ngāti Ruanui) to speak publicly about his 100th match for Whanganui.
This Saturday, the stoic, sturdy, and softly-spoken hooker will become the 15th Whanganui player to crack the ton when he lines up against Thames Valley in a Meads Cup semifinal at Cooks Garden at 1:05 p.m.
Tutauha prefers to let his actions do the talking but is genuinely humbled about reaching triple figures.
"It's amazing, a surreal feeling," the 37-year-old said.
"I remember the first one in 2012. It was against Taranaki for the Ranfurly Shield. That was a big occasion. I wasn't expecting to come on in the first half. That was a real eye-opener against a professional team.
"My favourite season was probably 2016. We went through undefeated and won the Meads Cup."
Since the inception of the Heartland Championship in 2006, Whanganui has never missed the finals of the Meads or Lochore Cup. Tutauha has been part of Meads Cup wins from 2015 to 2017 and Lochore Cup successes in 2014 and 2021.
"It's a legacy that's been created over time that gives the boys the aspiration, determination and motivation to uphold it," Tutauha responded when pressed on the winning formula.

"When I first got into the team the old heads helped me learn what's required, and now, I guess, I pass that on.
"For a while, I used to overthink a lot of stuff. Doing my core roles is my most important job; My lineout throwing, my scrummaging. Once I learned to prioritise those the extras like work rate and carry became a greater bonus."
Some of the old heads Tutauha regards highly include Peter Rowe, Sheldon O'Hagan, and Fraser Hammond.
Whanganui will attempt to win their 12th Meads Cup semifinal against Thames Valley. Whanganui has conquered Thames Valley in two previous semifinals, but the Swamp Foxes won their 2023 round-robin meeting 36-33.
"That was our first game so there is a big difference between then and now, though the same could be said of them," Tutauha said.
"Like any game, the confrontation area will be critical. They have a big pack, very mobile, so we need to win those collision areas. Their goal kicker is sharp too, so we'll have to watch our discipline.
With 29 consecutive wins, South Canterbury will be favourites to flip Ngāti Porou East Coast in the other semifinal at Pleasant Point at 3:05 p.m. The Green and Blacks have eclipsed Whanganui's run of 21 successive wins from 2015 to 2017. Tutauha is respectful of the Southerners.
"They're unbelievable at the moment. They've got a good group of people that have been together a long time and are getting closer and closer and better and better," he said.
"They're a bulldozer team, big forwards with good skills and slick backs. Their coach Walshy (Nigel Walsh) is a good bugger."
A railway employee Tutauha started his rugby life as a halfback at New Plymouth Boys' High School. Following four years in the premier reserves at the Ruapehu club he converted to hooker and cracked the seniors. He has helped Ruapehu win four championships in 2012, 2013, 2017 and 2018.
Lindsay Horrocks reached his 100-game milestone last Saturday. Tutauha described the halfback as "a special man on and off the field." Whanganui thrashed Horowhenua-Kapiti 55-19 with centre Alekesio Vakarorogo scoring five tries.
"We made a slow start, but confidence is building," Tutauha said.
"I'd like to thank my partner Mandy and four girls, Tatiana, Jaeda, Chanel and Kori-Lee, for being there for me week in and week out."
Meads & Lochore Cup Playoffs Semifinals:
Meads Cup
Whanganui (2) vs. Thames Valley (3)
Date: Saturday 07th October
Venue: Cooks Garden, Whanganui
Kick-off: 1:05pm
South Canterbury (1) vs. Ngāti Porou East Coast (4)
Date: Saturday 07th October
Venue: Pleasant Point Domain, Pleasant Point
Kick-off: 3:05pm
Lochore Cup
North Otago (5) vs. Poverty Bay (8)
Date: Saturday 07th October
Venue: Whitestone Contracting Stadium, Oamaru
Kick-off: 2:00pm
Wairarapa-Bush (6) vs. West Coast (7)
Date: Saturday 07th October
Venue: Trust Memorial Park, Masterton
Kick-off: 2:30pm
100 Games for Whanganui
Trevor Olney 146 (1973-90)
Graeme Coleman 144 (1973-83)
Bob Barrell 139 (1963-77)
Adrian Bull 134 (1985-99)
Peter Rowe 120 (2003-17)
Bruce Middleton 119 (1974-84)
Andrew Donald 118 (1976-84)
Jerome Nahona 111 (1989-2000)
Guy Lennox 110 (1990-98)
Cole Baldwin 105 (2006-17)
Kerry Whale 100 (1985-98)
Brent Dallison 100 (1975-83)
Jason Hamlin 100 (1992-2001)
Lindsay Horrocks 100 (2013-2023)
Source: Whanganui Chronicle