Pieces of the All Blacks puzzle coming together at the right time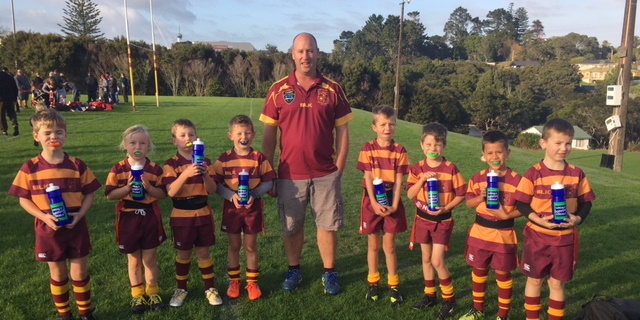 All Blacks man-of-the-match Damian McKenzie wasn't surprised they had problems dealing with Uruguay in the first quarter of their 73-0 win in their final Rugby World Cup pool game on Friday (NZT).
They had expected from observing Uruguay's earlier games that they would come out and play as they did.
He said, "We made a few errors through their defensive efforts. The good thing is we problem-solved out there and put on a few points later in the first half and then in the second half, so I'm proud of the lads."
McKenzie said the side had talked about getting things right since their loss to France in the opening round, and they had done a good job improving that.
"We are trending in the right direction. We know we can get better. I am really happy we're in the quarterfinals and we will wait and see who we play."
Being selected to play in the quarterfinal was a case of taking opportunities as they came along.
"We are always trying to push each other. Whatever role I'm given, whether in the 23 or not, it's one week at a time. It's about preparing the team as best as we can. I feel like the last couple of weeks have been good but we'll see what happens."
"We're into the quarterfinals now. It's knock-out rugby; it's win or go home.
"Whatever opponent we face, it's going to be a tough one. For the last few games, defensively we have held teams out and offensively we have scored tries. I've never been involved in a quarterfinal of a World Cup. I've never felt the pressure but there are a lot of boys in the shed who have experienced that from four years ago. We're excited about the challenge."
Usual wing Leicester Fainga'anuku spent time at second five-eighths in the second half, a position he had not played before.
He said, "I am so used to 13 [centre] but they gave the hint a few weeks ago to prepare myself for there and be ready for it. I felt comfortable, it's a place where I do enjoy in the midfield, being involved."
Sometimes, he was mocked for being an extra loose forward in how he plays, but he wanted to slip in wherever some work was needed.
Replacement flanker Ethan Blackadder said after injury, frustrations of the soft-tissue kind over the past two years had been frustrating, and he was grateful to get back into the side.
"Just to get to this point I wouldn't have believed it."
Lock Sam Whitelock, who made his 150th Test appearance, said it was nice for the side to achieve the bonus point win they needed to advance to the playoffs.
"I thought at times we were pretty clinical and ruthless but at other times we didn't play or our skill or execution wasn't where it needed to be. We're always trying to adapt and grow our game. Once we know who we are playing, we will look at them and make sure we have the game that we need to go out there."