Wellington and Taranaki book home semifinals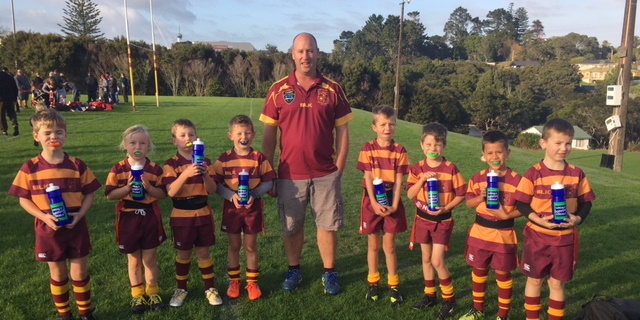 Close games marked the quarterfinals phase of the Bunnings NPC over the weekend, with Wellington and Taranaki winning the right to host Hawke's Bay and Canterbury, respectively.
Canterbury was too strong for Auckland in spite of losing first five-eighths Fergus Burke early in the game. However, Rameka Pohipi stepped up outstandingly to deny the northerners a chance in a 29-24 win.
Wellington had to withstand a bold Waikato second-half effort before winning 32-28 in Wellington. They will host Hawke's Bay in a replay of their Ranfurly Shield game last week.
Taranaki was the most comfortable winner of the semifinalists, beating Tasman 34-18 in New Plymouth.
While Hawke's Bay, down 19-28 at halftime in Tauranga, held Bay of Plenty scoreless in the second half while scoring 20 points to be 38-28 winners.
Semifinals schedule:
Taranaki (2) vs. Canterbury (3)
Date: Friday 13th October
Venue: Yarrow Stadium, New Plymouth
Kick-off: 19:05
Wellington (1) vs. Hawke's Bay (4)
Date: Saturday 14th October
Venue: SKY Stadium, Wellington
Kick-off: 19:05
Quarterfinals wrap:
Canterbury 29 Auckland 24
The sight of first five-eighths Fergus Burke being assisted from the ground with an apparent leg injury 10 minutes into the game was a blow for Canterbury. Still, second five-eighths, Rameka Pohipi stepped in a position while also taking over the goal-kicking duties. He marked that with a penalty goal three minutes later. However, after some long defensive interludes, Auckland used the restart to get into Canterbury territory, and it was lock Josh Beehre who went low enough to score. Handling woes denied Auckland more first-half tries. Instead, Canterbury used a midfield scrum to work a move that put wing Solomon Alaimalo over for a try.
Auckland made a solid start to the second half, with fullback Roger Tuivasa-Sheck making a break off a lovely ball from centre Tanielu Tele'a that resulted in a try for wing Salesi Rayasi. But a strong burst by flanker Billy Harmon punished Auckland's poor work at the restart and set up a chance, which hooker George Bell used to score. Then, a crucial break on the scoreboard was achieved when Pohipi broke the Auckland line. From the breakdown, fullback Chay Fihaki got the ball to score. Beerhe capped some intense work on the line to score his second. Replacement wing Blair Murray crossed in the 75th minute before Auckland got within five through a late try to AJ Lam.
Canterbury 29 (Solomon Alaimalo, George Bell, Chay Fihaki, Blair Murray tries; Rameka Pohipi 3 con, pen) Auckland 24 (Josh Beehre 2, Salesi Rayasi, AJ Lam tries; Zarn Sullivan 2 con). HT: 10-7
Wellington 32 Waikato 28
Wing Julian Savea lifted Wellington in the face of an early Waikato assault at SKY Stadium. Fullback Ruben Love seized upon a poor Waikato backline pass, and Savea was thrown the ball 60m out. He ran then kicked into Waikato's 22m. Waikato's defenders were caught and conceded a penalty, allowing Wellington centre Billy Proctor to take a tap penalty for the ball to be moved to Savea on the blindside to score the first try. But Waikato returned with a lineout maul where lock James Tucker scored the try. Quick Wellington hands rewarded left-wing James O'Reilly with a gap to run in a try. Two minutes from halftime, a massive Wellington maul rolled over the line for hooker James O'Reilly to score.
Three minutes into the second half, Waikato rumbled towards Wellington's line, and an inside pass from Tucker to hooker Pita Anae Ah-Sue pulled seven points back. Wellington unleashed some thrilling backline play and had their reward when flanker Du'Plessis Kirifi scored after 55 minutes. Into the final 17 minutes, centre Tana Tuakaraina muscled his way over beneath the posts and then 10 minutes later, a lineout maul resulted in Sean Ralph being driven over. Waikato threw everything at Wellington, but the home defence somehow remained intact in the face of 32 phases as the game ended after 85 minutes.
Wellington 32 (Julian Savea, Riley Higgins, James O'Reilly, Du'Plessis Kirifi tries; Aidan Morgan 3 con, 2 pen) Waikato 28 (James Tucker, Pita Anae Ah-Sue, Tana Tuhakaraina, Sean Ralph tries; Tepaea Cook-Savage 2 con; Taha Kemara 2 con). HT: 25-7
Taranaki 34 Tasman 18
Tasman made all the early running at Yarrow Stadium, but in their continual running of the ball, an interception was always on, and wing Vereniki Tikoisolomone pulled one off to race 70m to score. But Tasman was undeterred and stormed back on the attack to create a chance right-wing Timoci Tavatavanawai took to score for the visitors. With penalty goals being exchanged, the sides went to the break level at 13-13.
Moments into the second half, Taranaki replacement Jayson Potroz chipped over the Tasman defence, allowing fullback Jacob Ratumaitavauki-Kneepkens to run through and toe the ball on twice before scoring. Taranaki extended its lead after 51 minutes when flanker Tom Florence burrowed his way across from a goal-line maul. Four minutes later, the game was the home team's after Tasman's second five-eighth Alex Nankivell was yellow-carded for an early tackle on Taranaki No8 Pita Gus Sowakula, and a penalty try was the consequence. Flanker Max Hicks pulled one back for Tasman, but there was not enough time to deny the home side the win – their first over Tasman since 2017.
Taranaki 34 (Vereniki Tikoisolomone, Jacob Ratumaitavuki-Kneepkens, Tom Florence tries; Penalty try; Josh Jacomb 3 con, 2 pen) Tasman 18 (Timoci Tavatavanawai, Max Hicks tries; Taine Robinson con, 2 pen). HT: 13-13

Bay of Plenty 28 Hawke's Bay 38
Hawke's Bay pack made the early running, and at the nine-minute mark, prop Pouri Rakete-Stones went close after a lovely offload by hooker Tyrone Thompson. The tackle was made, but in the follow-up play, Rakete-Stones had the try. But the home lit Tauranga up when fullback Codemeru Vai's offload gave wing Leroy Carter room to move. He centre-kicked, and flanker Naitoa Ah Kuoi took the bouncing ball to score. Wing Reon Paul's 18th-minute break set Carter away again and conjured a way to get the ball to supporting lock Manaaki Selby-Rickit, who scored. Carter was involved again five minutes later on the end of an orthodox backline movement to score but soon after the Hawke's Bay forwards did the mahi for left-wing Jonah Lowe to step inside a marker and telescope the ball to the line for the try. An untidy restart allowed Bay of Plenty to apply the pressure, and when it seemed they had missed their chance, Selby-Rickit stormed from a ruck and charged in for his second. A BOP mistake allowed Hawke's Bay to take play into the home team's half, and a penalty allowed Hawke's Bay to run a lineout drive from which Thompson scored to reduce the margin to nine points, 28-19 at the turn.
Hawke's Bay used their lineout drive to get closer, with Thompson crossing again after 55 minutes. They had to battle hard to claim the lead, but, finally, it came with 12 minutes left after another lineout drive got them close before replacement halfback Folau Fakatava found fullback Lolagi Visinia had the right amount of steam up to score. Desperation resulted in BOP mistakes, and Hawke's Bay sealed the win when second five-eighths Chase Tiatia had the speed to round a forward to score out wide.
Bay of Plenty 28 (Naitoa Ah Kuoi, Manaaki Selby-Rickit 2, Leroy Carter tries; Wharenui Hawera 4 con) Hawke's Bay 38 (Pouri Rakete-Stones, Jonah Lowe, Tyrone Thompson 2, Lolagi Visinia, Chase Tiatia tries; Lincoln McClutchie 4 con). HT: 28-19