Rivals - Les Bleus documentary series launches exclusively on NZR+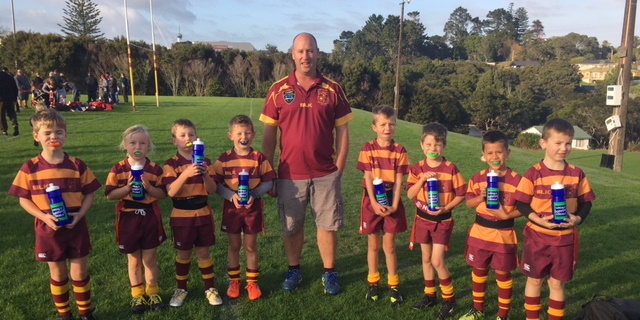 Rivals - Les Bleus - a new documentary series looking back on three iconic New Zealand v France Rugby World Cup matches has launched exclusively on NZR+.
Season one of Rivals features All Blacks captain Richie McCaw and France captain Thierry Dusautoir, the two openside flankers at the centre of the action in three epic Rugby World Cup clashes between their two countries in 2007, 2011 and 2015. The two rugby greats share their thoughts on the pressures of three intense knock out matches while re-living three of the most important Tests of their illustrious careers.
Episode 1 takes the two men back to Cardiff, 2007 where France shocked the rugby world in the World Cup quarterfinal. Episode 2 charts the tense final at Eden Park in New Zealand in 2011, while Episode 3 comes full circle back to Cardiff where the McCaw and Dusautoir squared off as Captains in another thrilling quarterfinal.
McCaw reflected on the filming the series with Dusautoir and getting to know one of his toughest opponents off the field, "It was great to catch up with Thierry again and remember these three matches that were such a big part of both our careers. We shared some massive moments on the field as opponents, and this experience allowed us to look back together all these years later, but now as friends.
"The emotions might've been different between winning and losing, but what struck me was how similar some of our memories were; the pride of representing our country, handling pressure, the joy of victory and pain of defeat. Those three Rugby World Cup games had it all."

Dusautoir, a young star in 2007 who would become one of France's most inspirational Captains added, "We never get a lot of opportunities to have a conversation around the games. Thanks to the show, it has been nice to get our different perceptions of the same event and more importantly to get the point which gather us: a lot of respect of each other, the love of the game and the pride of representing our country."
Rivals – Les Bleus episodes will be released each day exclusively on NZR+, the new digital streaming platform launched by New Zealand Rugby (NZR) to inspire and connect All Blacks and rugby fans across the world.
Free to subscribe to and available globally, NZR+ features behind the scenes, exclusive, and original content that can't be found anywhere else, including the All Blacks Podcast, NZR Podcast, Small Blacks TV and content series on key moments in the history of New Zealand's representative teams.
To watch season one of Rivals (Les Bleus) click HERE or download the NZR+ app.
Rivals – Les Bleus Synopsis
Rugby rivalries run deep. For the All Blacks, few teams conjure the same emotion and drama as France, particularly at Rugby World Cup time. For Season 1 of Rivals, relive three iconic New Zealand v France World Cup matches with the two men who were at the very centre of the action; Richie McCaw and Thierry Dusautoir. This is a view never before seen. This is Rivals: Les Bleus
Episode Guide
Episode 1 – premieres 11 October (7PM NZDT): 2007 Rugby World Cup quarterfinal, All Blacks v France. McCaw as recently anointed All Blacks Captain and Dusautoir, a young man embarking on his Test career, reflect on the intense match and the infamous grey All Blacks jersey on that dark day for the All Blacks in Cardiff.
Episode 2 – premieres 12 October (7PM NZDT):
With the All Blacks desperate to break a 20 year Rugby World Cup drought and France struggling through pool play, the 2011 final was one of the most tense in the history of the tournament. McCaw and Dusautoir were to lead their respective teams in a match that left players and fans exhausted from the tension of an occasion.
Episode 3– premieres 13 October (7PM NZDT):
Full circle from 2007 the All Blacks and France are pitched against each other again in Cardiff and again in a World Cup quarterfinal. Few see the magnitude of the result coming as the two countries and their seemingly ageless opensides and captains produce another unforgettable Test.