Tournament Spotlight: WXV 1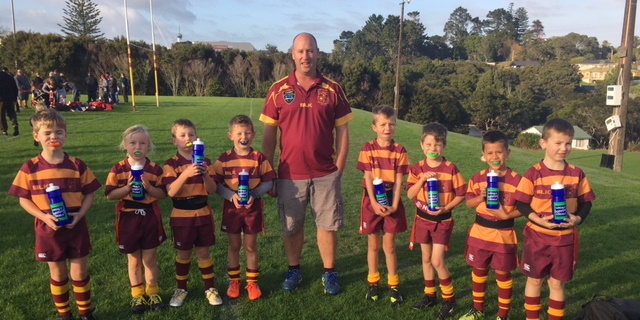 The inaugural WXV 1 tournament will see the top three teams from the World Rugby Pacific Four Series clash with the three best teams from the Europe Women's Six Nations.
The Black Ferns will play France, Wales, and England in consecutive weeks in a near repeat of their run home to win the Rugby World Cup last year.
The Black Ferns have won 16 consecutive Test matches, but will face stiff opposition to preserve that impressive record.
Though the Black Ferns don't play Australia and Canada due to the cross pool format of WXV 1, fans will have a chance to see those world class teams in action too.
England
Twenty-one of the travelling contingent experienced New Zealand as part of the 2021 Rugby World Cup touring party last year.
England had their world-record winning streak of 30 consecutive matches halted in the final by the Black Ferns but haven't put a foot wrong in 2023.
The Red Roses have won seven successive Tests, including an 18th Six Nations Grand Slam and a recent series against Canada (50-24 & 29-12).
England scored more points and tries than any country in the Women's Six Nations and conquered France 38-33 in front of a world-record women's crowd of 58,498 at Twickenham.
Marlie Packer will captain the side with Zoe Aldcroft (45 caps) and Helena Rowland (25 caps) named as vice-captains.
With 96 caps, Packer is a stone's throw away from joining just ten other women to play 100 Test matches for their country. Packer covers all three positions within the loose forwards and is noted for her brutal defence and strong ball carrying. A World Cup winner in 2014 she featured in victories against the Black Ferns in 2012, 2017, and 2021. She has become somewhat of a try-scoring machine dotting down for 23 tries in her last 22 Tests.
England will be structured and strong in the forwards, especially noted for their lineout drive. Hooker Amy Cokayne (72 caps) has scored two hattricks against the Black Ferns and Lark Atkin-Davies (51 caps) is world-class.
The absence of Abby Ward at lock will hurt but World Rugby Women's 15s Player of the Year in 2021 Zoe Aldcroft (45 caps) will drive the lineout.
Alex Matthews (59 caps) was outstanding at the Rugby World Cup last year and beside Packer in the back row, the pair have over a decade of experience to draw upon.
England's threats aren't limited to the forwards. Though Emily Scarratt is absent, Amber Reed (66 caps) is a very experienced replacement. Helena Rowland (25 caps) will likely run the cutter and if wingers Abby Dow and Claudia MacDonald get involved there could be fireworks. The pair combined for the try of the World Cup in the semifinal against Canada. Dow has a 36-1 record in Tests and scored twice against the Black Ferns in 2021. Ellie Kildunne (36 caps) is an elusive fullback with a big boot.
England will soon be coached by former All Black John Mitchell. Interim head coach Louis Deacon (29 Tests for England) remarked:
"We have selected a squad rich in experience, versatility, and talent; a squad we are excited to see take to the field in the inaugural WXV competition.
"Since our first pre-season camp at the end of July, I've been extremely proud of the players' application and dedication to always put the team first.
"There has been a tremendous amount of effort put in to develop as a squad on and off the field, and they deserve huge credit for their progress to date.
"We're relishing the opportunity to go up against three of the world's best teams in Australia, Canada, and New Zealand as well as experiencing three different cities in a fantastic rugby-loving nation."
France
France has won four of their past five Test matches against the Black Ferns and lost the Rugby World Cup semifinal by 25-24. France has a powerful pack who maul strongly, an exceptional backrow who were every bit the Black Ferns measure last year, and a varied and clever kicking game. In the Rugby World Cup quarterfinal against Italy, France regained 14 of their 22 kicks.
Unlike England, France tends to play more "off the cuff" making the French a difficult team to prepare for. France was down 33-0 at halftime against England in the Six Nations but only lost by five points. They won all their other matches convincingly.
Agathe Sochat (hooker), Gabrielle Vernier (midfield), Emilie Boulard (fullback), Pauline Bourdon (halfback), Madoussou Fall (lock) and Gaëlle Hermet (flanker) are key figures from the World Cup semi who return.
Vernier had a stunning Six Nations awarded the best player award after a tournament in which she played every minute and scored five tries. Hermet has played 55 Tests and has captained France to victory against the Black Ferns four times. She typically plays on the openside though in four victories against New Zealand she's been stationed on the blindside.
Interestingly Hermet has been replaced as captain by young lock Manaé Feleu. Although born in Mâcon, Feleu grew up in Wallis and Futuna, a French-controlled island located between Fiji and Samoa, after her family relocated there when she was young.
Feleu then attended boarding school in New Zealand for three years before returning to mainland France and embarking on her impressive rugby career with FC Grenoble Amazones. When asked what makes a good captain she said: "Someone who provides a bit of a link in the group, who brings people together and who is also capable, in critical moments, of bringing the group together".
Agathe Sochat is a busy, accurate and combative hooker who's led France in the past. She will be delighted to see the return of tall timber Madoussou Fall who missed the Six Nations with injury.
Kendra Cocksedge rated halfback Pauline Bourdon as one of the toughest opponents while Emilie Boulard at fullback has an educated kicking game and is electric on the counterattack. Winger Cyrielle Banet is capable of fireworks.
Romane Menager, scorer of two tries in the World Cup semifinal, is unavailable for selection as is her sister Marine Menager who was imperious in midfield during the Six Nations.
The French coach is David Ortiz: "This new competition represents a significant step forward for women's rugby on a global scale, we must approach it with determination. We have put together our list with this in mind, including young players who came to seek their place during our pre-season training camp. During this course, we evaluated 45 players and focused on the resilience work that high level requires. Our goal now is to reap the rewards of the work accomplished during this period throughout this upcoming competition."
Wales
The Black Ferns beat Wales twice at the Rugby World Cup. The Welsh were stubborn in the forwards with an especially powerful scrum and lineout. Those qualities were to the fore in a recent 38-18 win over the USA in Colwyn Bay. Wales scored six tries and debutants Carys Cox and Nel Metcalfe made such an impression they were selected to tour.
The WRU had 12 players named on full-time contracts in 2022 and a further 17 on six-month deals for the Rugby World Cup in New Zealand, making them the first female players to represent Wales professionally. This year a group of 25 players were assigned full-time contacts.
In the Six Nations Wales was third, maintaining its position as the strongest country behind perennial contenders England and France. The Welsh beat Ireland (31-5), Scotland (34-22), and Italy (36-10). They were beaten by England (3-59), France (14-39).
Wales are captained by centre and PE teacher Hannah Jones (48 caps) and tough-tackling loose forward Bethan Lewis.
Prop Donna Rose, tackling-machine Alex Callender, and Wales all-time leading try scorer Sioned Harries are among the standouts in the forwards.
Wing Jasmine Joyce is a classy finisher, centre Meg Webb is rock solid, and halfback Keira Bevan kicked a famous penalty with the last play to beat Scotland at the Rugby World Cup.
Wales coach Ioan Cunningham commented: "We have had a tough pre-season, and the squad has been tested physically and mentally and made real strides. This group of players has a real appetite for hard work, and we are ready for the challenges ahead.
"Our performance in the 38-18 win in Colwyn Bay was another step in the right direction with a first victory over the USA. We showed some real physicality against a side which prides itself on what it brings in that facet of the game.
"We know the only way we improve as a squad is by playing the best in the world and the Welsh supporters can be assured, we are determined to represent them and Wales on the world stage. This squad inspired the nation during the recent Six Nations, and we intend to do the nation proud out in New Zealand."
Canada
With a six-game winning streak over Wales, Canada will fancy their chances of at least winning one game. If Canada can repeat the form that took them to fourth in the Rugby World Cup, they will push England and France too.
Canada's World Cup campaign was built on staunch defense and gritty forward play. Hooker Emily Tuttosi scored six tries, lock Tyson Beukeboom was a workhorse and captain, and No.8 Sophie de Goede had a claim for Player of the Tournament.
Unfortunately, Brianna Miller and Karen Paquin are unavailable but openside Fabiola Forteza is an emerging talent and scored a beauty of a try in the Pacific Four Series against the Black Ferns. Sabrina Poulin, from a Sevens background, and the experienced Paige Farries are two backs worth keeping an eye on. Canada's head coach is Kevin Rouet.
"Over the last year since the Rugby World Cup, we've developed good consistency with a strong core group of players. There has been a lot of positive growth and development with continued collaboration with our sevens program as well as the Pacific Four Series and the test matches in England.
"Gaining more frequent elite competition experience is very important as we continue to look towards the 2025 Rugby World Cup. We are excited about the opportunity presented to us with WXV and are looking forward to three more great matches against some of the best teams in the world."
Australia
Australia has recently appointed a Women's High-Performance Manager, Jaime Fernandez. This is part of a World Rugby initiative, Accelerate, a new global framework for growth and targeted investment to fast-track the development of Women's Rugby both on and off the field. The Wallaroos have been training at the world-class Ballymore National Rugby Training Centre in Brisbane which has won widespread acclaim from the players.
Australia was well beaten by the Black Ferns 43-3 in Hamilton, but as coach, Jay Tregonning said: "The squad remains largely the same from the Pacific Four Series as we look to continue to build combinations and Test experience. England, France, and Wales is an exciting way to finish up the 2023 season."
Australia always brings physicality to the forwards. While Captain Piper Duck will be missed, the front row has a settled appearance. Prop Bridie O'Gorman is an able scrummager and carries strongly. Lock Michaela Leonard steps up as captain while Emily Chancellor and Ashley Marsters were outstanding at the Rugby World Cup. Chancellor has played 20 Test matches and brings experience from Harlequins in England.
The gifted Carys Dallinger will look to establish herself at first five-eighth. The Hurricanes Poua pivot will be looking for stronger outings than her previous Tests against the Black Ferns. Ivania Wong and Maya Stewart will offer speed and evasiveness on the wings with Lori Cramer seasoned at fullback.
Check out the full WXV 1 Draw HERE.
The Black Ferns get their campaign underway against France at Sky Stadium in Wellington on Saturday 21 October, 7pm. The match is part of an epic double-header with Canada taking on Wales at 4pm. Get your TICKETS HERE.