Bunnings NPC Form XV: 2023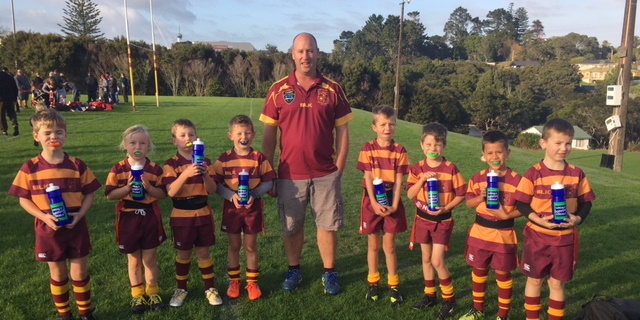 The 2023 Bunning NPC is over with Taranaki crowned champions for the second time.
Wellington looked unbeatable for much of the season, but were conquered by Hawke's Bay who narrowly missed out on their first title in New Plymouth.
Who were the best players this season? Picking a Form XV is a serious challenge but here's some talent that really flourished.
15. Roger Tuivasa-Sheck (Auckland)
Appeared much more comfortable at fullback than he was in midfield. The Auckland player of the year led his team in carries (142), metres gained (1132), defenders beaten (62), clean breaks (12), and offloads (17). All those numbers ranked him as one of the top attacking players in the NPC.
14. Jacob Ratumaitavuki-Kneepkens (Taranaki)
In a backline that featured All Black Stephen Perofeta and damaging winger Kini Naholo, Ratumaitavuki-Kneepkens was Taranaki's best-attacking player topping the metres gained and defenders beaten count. Ratumaitavuki-Kneepkens scored six tries and covered fullback.
13. Billy Proctor (Wellington)
The Lions extended a winning streak from 2022 to a province-record 21 games. Wellington lost two games by a combined margin of three points to narrowly miss the final. Proctor formed an imposing midfield partnership with Peter Umaga-Jensen. He made a try-saving tackle against Waikato to keep Wellington in the competition in the quarter-final. He scored three tries and played 10 out of a possible 11 games. An honourable mention for Taranaki's Meihana Grindlay who played a brilliant final against Hawke's Bay and scored a crucial try in his sides' 22-19 victory.

12. Chase Tiatia (Hawke's Bay)
Midfield is not a natural place for Tiatia who's spent most of his career at fullback, wing, or first-five. However, the former Chiefs back made the 12- jersey his own this season. A brilliant hat-trick in the semi-final eliminated Wellington and he scored seven tries overall. Tiatia has an uncanny ability to create something from nothing. His smaller body was often tested defensively, and he proved resolute, racking up over 100 tackles.
11. Heremaia Murray (Northland)
Northland had a mediocre season winning just two games but Murray was a sensation scoring eight tries. The next best player scored two. Murray scored two alone from long range in a spectacular 32-5 win over Tasman. The speedster out of Auckland Grammar School must be a contender for a Super Rugby contract after topping Northland's attacking stats in carries (105), meters gained (809), defenders beaten (24), clean breaks (12) and offloads (10).
10. Josh Jacomb (Taranaki)
The rookie out of Auckland's Sacred Heart College came of age and by the finals was hugely influential. In the 23-17 victory over Canterbury in the semifinals, Taranaki's 20th in 71 outings against the Red and Blacks, he scored 12 points, notching 125 metres with the ball in hand. He also pulled off a 50/22 with his left boot. In the final against Hawke's Bay, he played a direct hand in two of Taranaki's three tries. In a pivotal 18-16 victory over Auckland in driving rain in New Plymouth he kicked the winning penalty. He also had a field day against North Harbour with 24 points and two tries.

9. Adam Lennox (Taranaki)
Really peaked at the business end of the season starting all four matches in the last month and featuring for 289 minutes. Lennox's quick pass gave the dangerous Taranaki counterattacking backs plenty of opportunity and his running game yielded tries in the semifinal against Canterbury and final against Hawke's Bay. He hinted at his potential in the opening month of the season when he scored two tries off the bench in a 29-17 win against Waikato. The former New Zealand Under 20 representative is the son of Guy Lennox who played 110 games for Whanganui between 1990 and 1998.
8. Peter Gus Sowakula (Taranaki)
Since being left out of the All Blacks, Sowakula has been playing some of the best footy of his career. He was Taranaki's most prolific and effective ball-carrying forward and was busy in defense with over a century of tackles. Sowakula only missed 14 possible minutes in 12 games.
7. Du Plessis Kirifi (Wellington)
Despite regular victories the Wellington captain was always looking for improvement from his team. Kirifi emptied the tank in every outing and his memorable run in the semifinal loss to Hawke's Bay was a metaphor for his committed efforts. He topped the Lions tackle count with 135 and won a bundle of turnovers. With 96 carries, 21 defenders beaten, and three tries his offense was strong too.
6. Billy Harmon (Canterbury)
It wasn't a vintage season for Canterbury winning just six of 11 matches, but the vastly underrated Highlanders skipper was in superlative form. Harmon was a powerful presence with ball in hand making the most carries (143) and offloads (47) for Canterbury. Harmon was a menace at the breakdown and with 175 tackles was second to teammate Tom Christe (183) on the overall NPC tackle list. Harmon's numbers are always excellent but like Tiatia he often creates things from nothing. He was Canterbury's leading offloader. An honourable mention for Wellington's Brad Shields who returned from England and was immense for the Lions.
5. Tom Parsons (Hawke's Bay)
Leadership, lineout expertise and work rate were huge from the veteran who featured in every match and amassed 605 minutes. He topped the Magpies' tackle count was a key source of lineout possession and was disruptive on the opposite throw. His tussle with longtime mate and rival Dominic Bird in the Magpies successful Ranfurly Shield challenge in Wellington was absorbing.
4. Manaaki Selby‑Rickit (Bay of Plenty)
With nine tries Selby‑Rickit set a record for most tries by a forward in an NPC season. He was a key source of lineout possession for the Steamers and a handful on the carry. He made 97 tackles. An honourable mention for Waikato captain James Tucker.
3. Reuben O'Neill (Taranaki)
Taranaki's last scrum of the season to win a penalty and snuff out any chance Hawke's Bay had of mounting one last counterattack will long live in Taranaki folklore. O'Neill showed why he spent time with Super Rugby champions the Crusaders with consistently solid efforts. His durability was shown in wins against Otago, Auckland, and Hawke's Bay playing the entire 80 minutes.
2. Tyrone Thompson (Hawke's Bay)
Brought his usual power game topping the Hawke's Bay carry count and scoring five tires. The Magpies lineout won 86% of their own possession and their rolling maul was a major weapon, winning a game against Counties Manukau with a penalty try. Thompson turned the Bay of Plenty quarterfinal on its head by scoring two tries when the Magpies trailed.
1. Xavier Numia (Wellington)
For most of the season the Lions enjoyed an impressive scrum and much of that was down to Numia. His work rate and athleticism have always been noteworthy. He made 70 tackles and had 68 carries for 22 beaten defenders. The numbers don't quite illustrate the impact he had.