It all comes down to the final round of WXV 1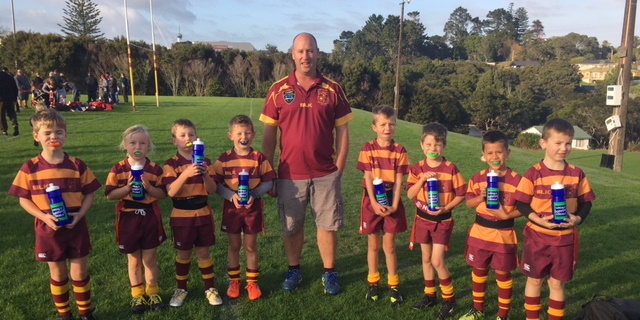 The final round of the inaugural WXV 1 will be held at Go Media Stadium Mt Smart in Auckland with the winner likely to emerge from the Black Ferns long-awaited World Cup final rematch with England.
England has a maximum of ten points in two games while the Black Ferns surged back into title contention with a record 70-7 victory over Wales to sit on 6 competition points.
Canada and Australia are in third and fourth place on the ladder and could both reach 10 points with bonus point wins. However, they cannot surpass England's current tally of 10 points.
Week Two Results
England: 45 v Canada: 12
Black Ferns: 70 v Wales: 7
Australia: 29 v France: 20
Wallaroos Boilover
Australia comprehensively beat France 29-20 in the biggest surprise in women's rugby this year. In the last five minutes, France scored two consolation tries to reduce the deficit from 19 points to nine.
Australia was assertive and accurate, bullying France with relentless physicality. Prop Eva Karpani was a hero scoring three tries. Her second try was scored after a 22-phase attack. Her third saw the tighthead push aside several defenders like ten pins.
Heading into the French Test Australia had only won six of their last 20 Tests and scored 97 points in six matches in 2023. They'd only beaten France once in six previous meetings and that was at the 2010 Rugby World Cup.
Australia conceded the most penalties (37) and was awarded the least (19), while also having two players yellow-carded in the Pacific Four Series. They had lost to the Black Ferns (who France beat) 50-0 and 43-3 in two meetings this year.
Australia only won 10/19 lineouts against England, but a more resolute set-piece was a massive part of the success. Wallaroos coach Jay Tregonning insisted the result wasn't an upset.
"Not in our eyes. We were playing against a team above us in the ranking, but we had a game plan. The biggest thing was working for each other. That was the focus. The dedication of the whole squad, how hard we trained, showed on the field tonight," he said.
Forward Power
Forwards have scored 23 of the tournament's 49 tries. If you subtract ten tries by the Black Ferns backs against Wales forwards account for 59% of all tries scored.
Lark Atkin-Davies scored four tries for England in their 45-12 win against Canada on Friday. It was a world record performance by a women's hooker in an international. All four tries were scored from lineout drives and Canada nabbed one from the same source too.
A forward scoring four or more tries in New Zealand is highly unusual. Deidre Hakopa, typically a loose forward, scored five tries for Hawke's Bay in a 100-5 thrashing of Southland in 2003. In men's rugby hooker Dane Coles scored four tries for the All Blacks in a 57-23 win against Fiji in 2021. Fellow loose forward and All Black Rob Gordon scored five tries for Waikato in a 75-12 win against Southland in 1990. Manawatū's John Mears achieved the feat against Horowhenua in 1958.
World Cup Final Replay
The Black Ferns are 14-0 in Test matches in Auckland but will have their work cut out to beat England. England has won all nine Tests this year and their lineout drive, a source of four tries in the Rugby World Cup final, remains kryptonite for opposition.
England isn't a one-trick pony. Outside backs Abby Dow, Claudia MacDonald, Jessica Breach, and Emily Kildunne have looked potent. Veteran halfback Natasha "Mo" Hunt missed the World Cup and has added an extra dimension to the Red Roses attack.
The Black Ferns easily accounted for Wales with the backline, under less pressure, fluid. Changes in personal appear unlikely though competition is stiff on the wing with Ruby Tui, Mererangi Paul and Katelyn Vaha'akolo all in fine form. Grace Brooker has been brought into the squad to cover the injury to Martha Mataele. Could she feature in midfield alongside Canterbury teammate Amy du Plessis?
In the forwards, the contest for a starting berth between locks Chelsea Bremner and Charmaine Smith will be keen. Rookie Layla Sae made a big impression against Wales, but Alana Bremner has featured in 17 of the last 21 Black Ferns Tests.
The Black Ferns scrum and lineout have been impressive in both outings. However, there is a forced change with tighthead Esther Faiaoga-Tilo replacing the injured Tanya Kalounivale.
Will the Black Ferns compromise on their all-out attacking strategy if they can get the measure of England? Black Ferns Director of Rugby Alan Bunting said before the Welsh match.
"We've got an amazing forward pack who are going to give a lot of energy, but they can't keep giving that sort of pace for 80 minutes, so we need to give them a bit of a rest and be a bit smarter around that. Our ladies enjoy playing rugby, they enjoy playing tackling rugby, but you just need to be a bit smarter in where we do that and how much we do it."
The Blacks Ferns and England is the greatest rivalry in women's rugby. In 30 matches the Black Ferns have 19 wins, England 10 with one draw. The Black Ferns have only lost 17 Tests in their entire history.
Round Three Fixtures, Go Media Stadium Mt Smart, Auckland:
Friday 3 November
7:00pm: Australia v Wales
Saturday 4 November
4:00pm: France v Canada
7:00pm: New Zealand v England
Get your TICKETS HERE.
Black Ferns equation
The equation for the Black Ferns to win the title is simple. Win and deny England bonus points. If the Black Ferns win and the end up tied on competition points with England, then the Black Ferns will win the title by virtue of having won the game between the sides.
Did You Know?
The record for most tries on Test debut is held by Jessica Breach who scored six for England against Canada at Barnet Copthall, London in 2017. She had the date 11/17 tattooed on her body. Breach scored five tries in her next Test against Canada too. In men's rugby, Uriel O'Farrell scored seven tries on debut for Argentina against Uruguay in 1951.
Could a hooker score five tries in a match? In the UK in 2023 Glasgow Warriors hooker Johnny Matthews scored five tries in a 73-33 Challenge Cup win over Pau Dragons. Matthews, who was born in Liverpool, is no stranger to scoring tries achieving the same feat for the Shielfield Tigers against Luctonians in 2016.