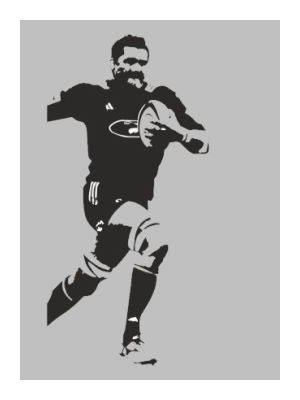 1967 highest points scorer with 103 playing for the 3rd grade.
Dave was made a Life member in 1996.
1984 Write up
David started his rugby career at the age of 5, and apart from 2 years playing for Northcote College, he has played for the club for 27 years until retiring in l-981. The last 12 of these years being with the Seniors. His first Senior game was tn 1967 whilst sti1l a 3rd Grade player.
He played for the Auckland 3rd Grade in 1967 and 1968 as Second-five, centre.
When the club undertook their first overseas trip to Australia in 1959, Dave was one of the members to travel, and again in 1976 he was a member of the World Tour.
He coached Senior Reserves in 19Bl and 1982. Part-time coach for the 3rd Grade in 1983, and is co-coach with Bill Goldsmith of the 3rd Grade for the 1984 season.
Dave's family have always been involved with the Northcote CIub, his father, Doug, was on the management committee until his death in 1973, while his mother, E1sie, was the first woman on the management committee. A11 three Newman brothers have played for the club and his son Glenn, and nephew Shane play for the Junior Boys, while brother Gary coaches a junior boys team.
Dave Newman
Life Member, Centurion
COTE Since

1967

Centurion

1975

Life Member

1996

Club Accolades

Steve Carey Memorial Trophy

1967

Snow White Cup

1980

Graeme McEwen Memorial Trophy

2017

Playing Seasons

Premiers

6

Coaching Seasons

Reserves

4

Colts

3

Juniors

1
Is this information incorrect? Do you have more information?