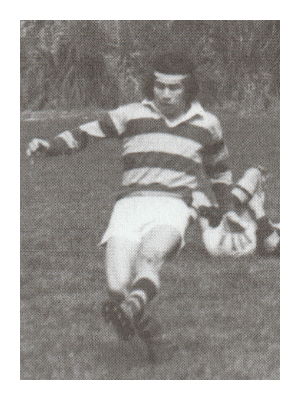 Eddie Dunn, who had represented North Auckland in 1973, joined Northcote in 1974 while attending Teachers College and made an immediate impact.
Dunn toured with Jack Gleeson's New Zealand Colts, emerging as the star player. The New Zealand Rugby Annual records that if 'the Colts tour (four matches in New Zealand) achieved nothing else, it reminded New Zealand of the genius of Eddie Dunn. He was given a free assignment by Gleeson. The little master made electrifying breaks in every match . . . performing with a maturity beyond his 19 years.'
Surprisingly, the talented Dunn could never break into the Auckland A team, whose selectors preferred Mike Richards at first-five, but he went on to play 107 matches for Northland and 20 for the All Blacks, including two tests, both against Scotland.
Eddie Dunn
All Black
COTE Since

1974

All Black

1978

Playing Seasons

Premiers

1
Is this information incorrect? Do you have more information?