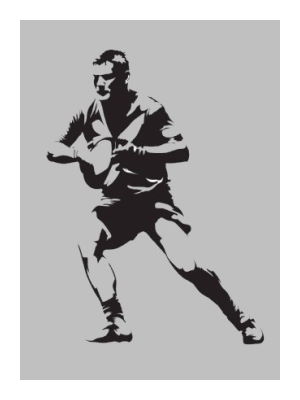 Born: 1929 (Kawakawa, Northland) Prop
> International record: 16 matches, 1953, 1954, 1955 (4 tests v Ireland, England, France, Australia)
Representative record: Auckland 1949-1963 (Northcote)
Snow was born in Kawakawa but played his rugby for Northcote after moving to Auckland. He played senior rugby for Northcote for over 20 years.
Snow played 196 provincial matches for Auckland (1949 to 1963), and, most notably, was in the Auckland team that won the Ranfurly Shield off Southland in 1960. With Snow's help, Auckland went on to successfully defend the shield 25 times before finally relinquishing the log of wood.
His ability and presence on the field was such that he was selected for the All Blacks where he played in four test matches and 16 games.
There can have been few more durable, dedicated and valu­able footballers in New Zealand rugby annals than Hallard Leo White. With Christian names like those, it's no wonder he was nicknamed 'Snow'.
Seemingly indestructible, he accumulated an incredible 196 appearances for Auckland over 15 seasons from 1949 (smash­ing the previous record by 57 games). It's a record that still stands and given the modern trend where professionals are making fewer and fewer appearances for their provinces, will probably never be eclipsed.
In addition, he played for Northcote for 16 seasons from 1948 after moving south from the Bay of Islands where he had attended Kawakawa District High School.
He was selected for the 1953-54 All Black tour of the UK and France, packing down in the front row with Kevin Skin­ner and Ron Hemi for the tests at Dublin, Twickenham and Paris. Although regarded as a success, he made only one fur­ther appearance for New Zealand, against the Wallabies at Eden Park in 1955. The furthest he progressed after that was to All Black trials in 1957 and 1959.
If the national selectors didn't want him, Auckland selec­tor Fred Allen certainly did. 'Snow' scarcely missed a match throughout Auckland's halcyon Ranfurly Shield era that stretched from 1959 to 1963. When the shield finally moved on, White retired.
In the four decades since he has given massive service to Northcote, as an administrator, coach, advisor and champion club bloke.
After hanging up his boots, Snow coached Northcote senior teams for many years. He was for a time also the Auckland Rugby Assistant Coach, Auckland Rugby Union president (1988 to 1989) and New Zealand Rugby Football Union president in 1990.
Snow considered sportsmanship and fair play to be the utmost. Accordingly, he founded the 'Snow White J7 Rippa Invitational tournament' hosted by our club each year. It is through this annual fixture that his legacy, in part, will continue. Snow will be dearly missed by all.
Northcote legend, Hallard 'Snow' White died on 14 July 2016 aged 87.
Hallard White
Life Member, All Black
A.K.A

Snow

COTE Since

1949

Super Rugby

1949

All Black

1953

Life Member

1955

Club Accolades

NBRC Honors Cup

1953

Playing Seasons

Premiers

3

Coaching Seasons

Premiers

3

Club Role

Club President

1987-1991
Is this information incorrect? Do you have more information?