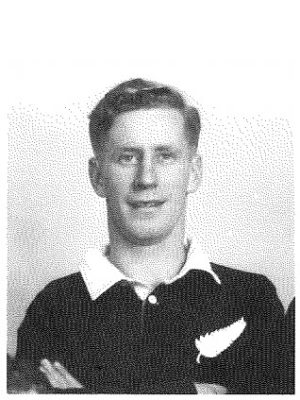 Born: 1923 (Auckland); Passed: 1994 (Auckland)
International record: 1 match, 1949 (1 test v Australia)
Representative record: Auckland 1946-1948 (Ponsonby), 1949 (Northcote)
The war disrupted Ron Dobson's rugby career but also pro­vided him with the opportunity to establish himself in Town Hall company. He was selected for the second NZEF team, the Kiwis, and appeared in 18 of their matches, scoring eight tries.
Back in New Zealand and playing for the Ponsonby club, he immediately won selection for Auckland, but was up against tough competition from All Blacks Fred Allen and Neville Black.
Dobson was a clever sidestepper. In his time with the Kiwis his unorthodox style was described as 'playing like a demented butterfly', a description his friend Bob Scott felt was totally appropriate. The 1949 Rugby Almanack said of Dobson that he was 'always lively and clever, a fine attacking five-eighth, who would have secured selection to any other team in the country.'
Dobson, who between seasons transferred to Northcote, missed out to Allen, Dobson, Graham Delamare, Jack Kearney and Keith Gudsell when the All Black team to tour South Africa in 1949 was selected. While that must have been a dis­ appointment, the opportunity to don the All Black jersey came that same season when the 'other' All Blacks took on Trevor Allan's Wallabies at Athletic Park.
Dobson was named at second-five, slotting in between Ben Couch and the captain Johnny Smith (who'd missed the South Africa tour for entirely different reasons - Maori not being welcome). The test was lost by 11 points to 6 and for the rematch at Eden Park three weeks later, Dobson was replaced by Wellingtonian Ray O'Callaghan.
Dobson made 13 appearances for Auckland in 1949, his final season as a representative player.
He and Bob Scott, his team-mate with Ponsonby, Auck­land and the Kiwi Army team, were especially close friends and during the late 1940s became business partners in a painting and paper-hanging business.
Ron Dobson
All Black
D.O.B.

1923

A.K.A

Dobbie

COTE Since

1949

All Black

1949

Super Rugby

1949

Playing Seasons

Premiers

3

Coaching Seasons

Premiers

2
Is this information incorrect? Do you have more information?