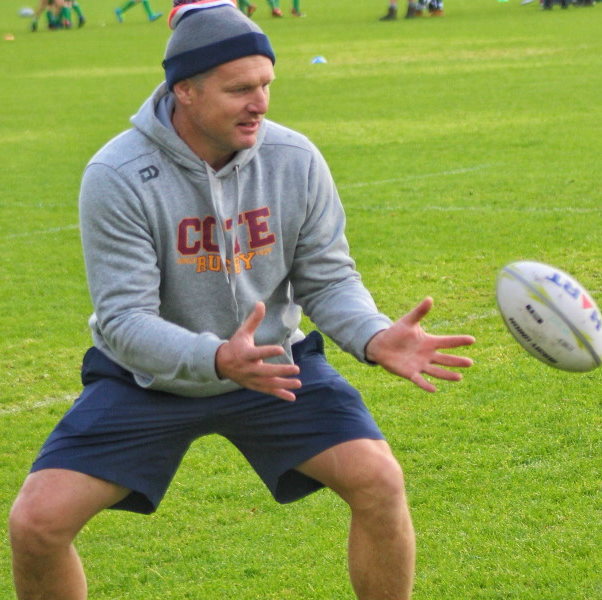 Becoming a Coach
There is nothing more satisfying than being called coach by your little charges.
Category

getting-started

Last Updated

Feb 2021
Being a coach is a great experience and we want to ensure that you have that experience. We have had years and dozens of coaches come through Northcote and we want you to hear what they say and provide you with all the support to be able to become the coach that you want to be.
What is required to be a coach?
To start with, 'rugby knowledge', is not one of them. A desire to have kids and parents enjoy rugby is. What we want to promote at all our grades are teams that everyone is part of. We want kids and parents to enjoy rugby practice, enjoy playing rugby on the Saturdays and look forward to next season.
As a coach, your job is to provide a positive environment and there are several things that you must adhere to.
Look to ensure and instil respect amongst players. They don't have to become friends but they do have to become teammates. We all come from different circles to join up and share playing a common joy, the game of rugby.
At different grades, different levels, different kids there are many things to consider to help them develop and enjoy the game. You will find different ideas and approaches throughout all our articles but to get started, here are a few things that will apply across the board.
Talking
Promote and highlight each success and achievement, both big and small. At the junior level, players enjoy doing things that make you happy. Have 'making you happy' a louder event than any other.
Something to consider, the kids will remember the last thing you say to them the most. If you finish every practice or game day talking about the problems and disappointments then that is what they will remember the most. Mention the issues but finish on the good stuff.
"We struggled today in tackling those runners, we didn't move forward in defence as we practised and that let them run over us. But when on our try line we defended like All Blacks. You were fantastic. They didn't have the big run-ups and we tackled them backwards. It was exciting to watch and everyone is really proud of you."
Time
Give every kid a fair share of your time and attention. Some will be easy, some hard. The hard ones for one week will be the easy ones next week.
There is nothing to say that the kid that is always in a daydream won't be the try-scoring sensation in years to come. Or that the shy kid won't become a revered captain in his 20's. We can't know and so we treat them all like they will be one day.
With everything being equal, every player gets equal time across the season on the field.
Planning
Be organised. Before you get to training know what you are going to do. You may plan it out Saturday afternoon after the game. You may do it an hour before you leave for training. But when you get to training know what you are going to do.
Don't think that you have to train the entire games skill set. After a few training runs you will get an idea of the type of players you have. Think about how to best to engage them and train in one or two areas at a time. Talk to others and get feedback. You can then use this to plan the direction for the next month or two of training and development.
Participation
Sometimes you just don't have many at practice. That can be hard when you are trying to stick to a plan. But don't discourage. For those that are there give them the best training you can. With fewer numbers, you can spend more time with each kid to help them get their skill to the next level.
Culture
Rugby has a long history and culture. It is made up from many sources. Do you have something you would like to bring? Sharing our cultures is a good idea. Something new to help bring the team together as one. A Scottish yell, Samoan chant, Maori challenge, an Asian sign of respect, a French handshake.
Talk to your team about it, where it comes from, what it means and share.
Support
Find parents in your group and invite them to help you out. Holding tackle bags, running a skill station while you give some attention to other kids. Warmups on Saturdays. Often they would like to but are just nervous about it. Give them opportunities to be involved and your role will be easier.
You as a coach should also expect help when you need it. If you need help or advice reach out to the junior committee.
Every one of us is a volunteer at Northcote and do this so our kids can be involved in a great experience. We have a great appreciation for this and the time you put into being a coach.